Why Democracy Requires Action
"Democracy is not a state. It is an act."
All over the world, young people are fighting for a democratic future.
University students in Belarus marked the start of the academic year by joining in the demonstrations against long-time leader Alexander Lukashenko.
Often referred to as "Europe's last dictator," Lukashenko has been in power for the last 26 years. Mass protests erupted in major cities across the country after the August 9 presidential election in which he claimed he received 80% of the vote. 
The election is widely deemed to be rigged, and it was rejected by both the European Union and the United States as neither free nor fair. Tens of thousands of people have been protesting in the streets, calling for Lukashenko to step down. Clashes with riot police have left at least two dead, hundreds injured and at least 6,700 arrested.
What do the protesters want? "A new, democratic, open country." Sounds simple, but it's anything but.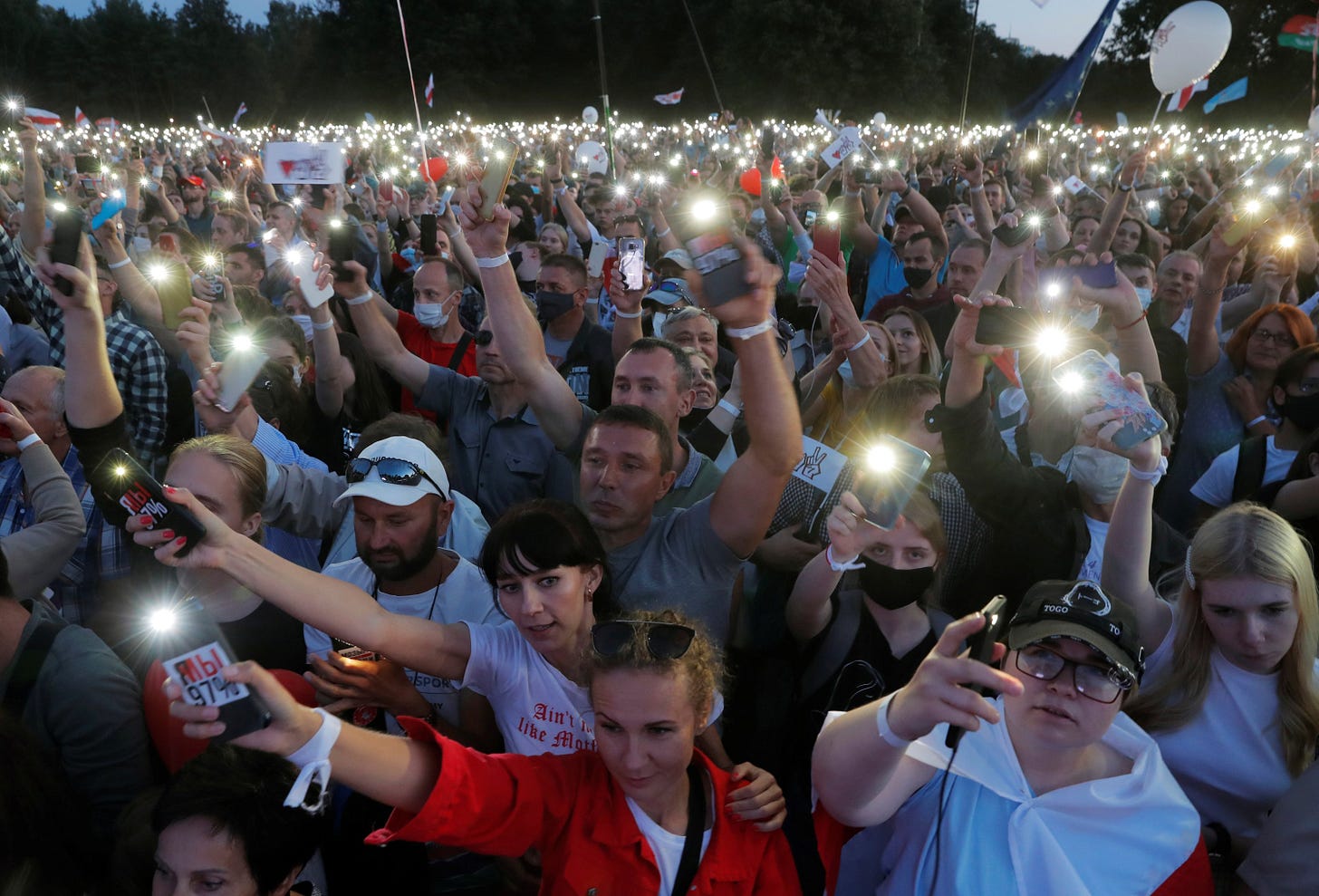 I wanted to better understand what's going on from someone who's not only read about it but lived it. 
So I called my dad.
He was in his 20s when communism fell in Bulgaria. He was optimistic about a democratic future, but attempting to build a democracy from scratch proved to be nearly impossible. The communist regime didn't disappear — it just morphed into a political party of a different name.
My dad took part in pro-democracy protests in the early 1990s. I asked him why he felt compelled to march in the streets where protesters were beaten with batons and tear-gassed by police. "We wanted the type of democracy we saw in America," he told me. "Every time we went out to protest, what we wanted most was democracy — but democracy never came."
The problem was that the people wanted a government system they didn't fully understand, so the politicians manipulated it to their advantage. "They would make changes and say, 'See, this is democracy," my dad says. "It wasn't democracy. It was just a different form of oppression."
That's when he knew he had to leave. Year after year, he submitted an application for the green card lottery. The U.S. green card lottery has been called "the unwinnable lottery" because only one quarter of 1% of applicants actually end up with the golden ticket. My family was one of them, and this is why I'm here today.
I was inspired to write about this because I know many people living in the United States who are worried about what's happening to our democracy. In the last week, I've seen headlines like these: "I'm Doomsday Prepping for the End of Democracy," "U.S. Democracy in Peril," and, "I Fear That We Are Witnessing the End of American Democracy."
Similarly to Belarus, protests have erupted all across the United States this year, too. But here's the major difference between dictatorships and democracies: Protests threaten the former and strengthen the latter.
Danny Oppenheimer and Mike Edwards, the authors of "Democracy Despite Itself," argue that America is less broken — and more resilient — than we think. In autocracies, for example, conflict and change are bad because they risk the power of those in charge. In a democracy, they are good because they allow for citizens to propel our country forward without destroying it. 
Oppenheimer and Edwards explain further:
"The history of democracy is a story of ignorant voters making questionable decisions, and unqualified elected officials implementing abysmal policies. And yet, by every measure of well-being that has ever been studied, citizens of democracies are doing better than any other form of government. We live longer. We have more wealth. We are better educated. We are safer. 

"This is the fundamental paradox of democracy — the inputs to democracy are terrible, but the outputs are great. Yes, inequality, poverty, and crime still exist, but that is true of every society. No society is perfect, but democracies are less imperfect."
The beauty of democracy is that it doesn't have to rely on people's ability to vote into power the best (or even most competent) leaders. Bertrand Russell said: "In a democracy, the fools have a right to vote. In a dictatorship, the fools have a right to rule." A democracy relies on its citizens having — and using — their voices as catalysts for change.
Of course, no nation is immune to the erosion of democracy. A true democratic state requires consistent action, and we all have a responsibility to do our part.
As John Lewis wrote in his posthumously-published essay, "When you see something that is not right, you must say something. You must do something. Democracy is not a state. It is an act, and each generation must do its part to help build what we called the Beloved Community, a nation and world society at peace with itself."
---
Sign up for The Profile here: