Discover more from The Profile
The Profile features the best long-form stories on people and companies in business, tech, sports, entertainment, and more.
The Profile: The reality-bending billionaire & the arctic explorer who cheated death
Good morning, friends!
I'll never forget visiting Casa di Giulietta, or "Juliet's House," in Verona, Italy. The attraction has an intimate courtyard with a stone balcony protruding from a small house dating back to the 14th century. Legend has it that this location inspired Shakespeare's tragedy Romeo and Juliet.
The tiny tunnel entrance was lined with handwritten love notes and graffiti because people believe that if you leave a declaration of your love at Juliet's house, you will be together forever. (...I guess people don't know how Romeo and Juliet ends?)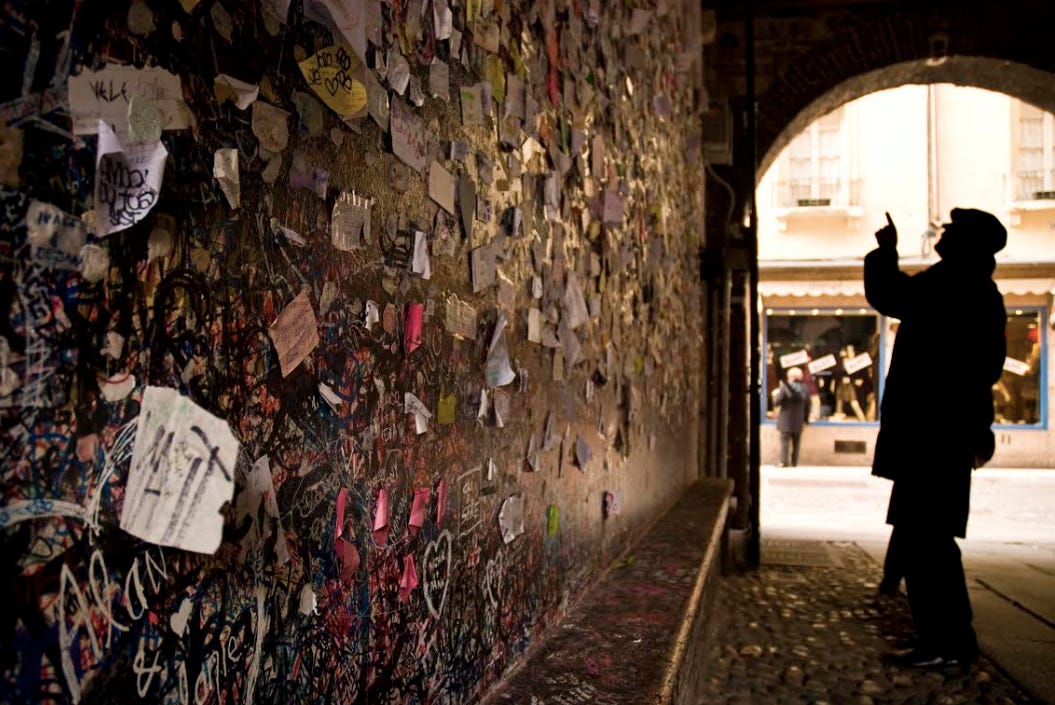 Anyway, this led me to think about how much has changed over the last 1,000 years, 100 years, and even 10 years. The answer is a whole lot, but there's one thing that's remained an absolute constant decade after decade: the art of the love letter. 
The intimacy of a letter between two lovers reveals a depth that no interview ever could. And one of my favorite love letters in history manages to capture just as much about the author as the person to whom it's addressed. It's one that then-president Ronald Reagan wrote to First Lady Nancy on their first Christmas in the White House. 
The two were married for more than 50 years, and the couple's relationship has been described as "the greatest love affair in the U.S. presidency." They wrote each other countless letters, and there's even a collection of them in a book called I Love You, Ronnie. But the reason I love this one in particular is because it details all of the different sides of his wife, and expresses his complete love for each. Here it is in its entirety:
Dear Mrs. R,

I still don't feel right about you opening an envelope instead of a gift package.

There are several much beloved women in my life and on Christmas, I should be giving them gold, precious stones, perfume, furs and lace. I know that even the best of these would still fall far short of expressing how much these several women mean to me and how empty my life would be without them.

There is of course my "First Lady." She brings so much grace and charm to whatever she does that even stuffy, formal functions sparkle and turn into fun times. Everything is done with class. All I have to do is wash up and show up.

There is another woman in my life who does things I don't always get to see but I do hear about them and sometimes see photos of her doing them. She takes an abandoned child in her arms on a hospital visit. The look on her face only the Madonna could match. The look on the child's face is one of adoration. I know because I adore her too.

She bends over a wheelchair or bed to touch an elderly invalid with tenderness and compassion just as she fills my life with warmth and love.

There is another gal I love who is a nest builder. If she were stuck three days in a hotel room she'd manage to make it home sweet home. She moves things around — looks at it — straightens this and that and you wonder why it wasn't that way in the first place.

I'm also crazy about the girl who goes to the ranch with me. If we're tidying up the woods, she's a peewee power house at pushing over dead trees. She's a wonderful person to sit by the fire with, or to ride with or first to be with when the sun goes down or the stars come out. If she ever stopped going to the ranch I'd stop too because I'd see her in every beauty spot there is and I couldn't stand that.

Then there is a sentimental lady I love whose eyes fill up so easily. On the other hand she loves to laugh and her laugh is like tinkling bells. I hear those bells and feel good all over even if I tell a joke she's heard before.

Fortunately, all these women in my life are you — fortunately for me that is, for there could be no life for me without you. Browning asked; "How do I love thee — let me count the ways?" For me there is no way to count. I love the whole gang of you — Mommie, first lady, the sentimental you, the fun you, and the peewee power house you.

And oh yes, one other very special you — the little girl who takes a "nana" to bed in case she gets hungry in the night. I couldn't and don't sleep well if she isn't there — so please always be there.

Merry Christmas you all — with all my love.

Lucky me.
Personally, I would always prefer to open an envelope instead of a gift package. So if you're wondering what to do this Valentine's Day, you can't go wrong with a handwritten note for someone close to your heart. Lucky them.
** If you can't access any one of the stories below, reply to this email. **
PROFILES.
— The reality-bending billionaire [**HIGHLY RECOMMEND**]
— The star who fell out of the spotlight
— The outsider reinventing pop
— The entertainer who believes in joy
— The arctic explorer who cheated death
— Nike's ultra-fast controversial sneakers
— The billion-dollar skincare startup
— The sports apparel company fighting to win you back
— The money men selling shoes
— The messenger of love
---
👉 If you enjoy reading profiles of the most interesting people and companies, tweet to tell others about it:
---
PEOPLE TO KNOW.
The reality-bending billionaire: Tesla's billionaire CEO Elon Musk has defied the odds time and time again. He promised to land a reusable rocket on a robotic ocean barge, and then he did it. He dreamed up a tunnel under Los Angeles to counter the congested highways, and then founded a company to dig it. He's also mapped out an electric car future and is well on his way toward achieving it. So how does he consistently bend reality in his favor? (BuzzFeed)
"No one can bring people together like he can to do the impossible." 
The star who fell out of the spotlight: The headline of this profile says it all: "You Remember Jessica Simpson, Right? Wrong." You may remember Simpson as the pop star who married Nick Lachey of 98 Degrees, starred in MTV's "Newlyweds," divorced Nick Lachey, dated John Mayer, "cursed" the "Dallas Cowboys," and became a billion-dollar fashion mogul. And then poof, she was gone from the everyday spotlight. In this feature, the singer opens up about sexual abuse, alcohol addiction, toxic relationships, and everything else. (The New York Times)
The outsider reinventing pop: Last month, artist Billie Eilish became the first woman in history to take home all four big prizes at the Grammys. What's interesting is Billie's contradictory take on music. She writes songs about drugs, but has never taken one in her life. She sings about suicide, but has never felt suicidal. "Just because the story isn't real doesn't mean it can't be important," Eilish says. (Vogue)
"Maybe people see me as a rule-breaker because they themselves feel like they have to follow rules, and here I am not doing it."
The entertainer who believes in joy: James Corden has become a staple in the American pop-culture landscape by casting himself as a happy-go-lucky showman who can liven up any party. He sees The Late Late Show as a delivery system for happiness. His show produces a steady supply of viral videos. "Carpool Karaoke" has attracted such stars as Lady Gaga, Adele, Elton John, Barbra Streisand, and Michelle Obama. Here's why Corden believes that entertainers have a responsibility to combat cynicism and spread joy. (The New Yorker)
"I'm not sure it's healthy to have a standing ovation every day."
The arctic explorer who cheated death: Colin O'Brady completed the first solo crossing of the Antarctic landmass under his own power and with no resupplies in 2018. In this excerpt from his new memoir, 'The Impossible First,' he reveals the moment that nearly ended his historic feat. "I'd die alone, in the cold, my body temperature falling," he remembers thinking. This first-person story shows the power of calming your mind in a state of absolute panic. (Outside Magazine)
COMPANIES TO WATCH.
Nike's ultra-fast controversial sneakers: Nike's Vaporfly shoes include a carbon fibre plate and a wedge of soft, energy-returning foam that help runners move at least 4% more efficiently. The claim has been backed-up by academic studies. Since launching three years ago, the shoes have been worn to break multiple world records. While the Vaporflies have survived a ban from the 2020 Olympics, any future versions of the shoe will be outlawed. Here's how Nike transformed the sport of running forever. (Wired)
"The danger with technology is that the moment it starts to influence performance more than the normal difference between two humans, then the human integrity of the result is gone."
The billion-dollar skincare startup: A key part of Glossier's brand identity has been its simplicity. The skincare company provides a minimalist offering by beauty brand standards. But now, people are asking for more — Glossier candles, Glossier lingerie, a Glossier-designed apartment, and even Glossier lube. As the company expands, it will need to grapple with how to grow its customer base without losing the cool factor that comes with a cult-like following. Is it possible to have both? (Wired)
"Technology is the key to building one-to-one relationships at scale."
The sports apparel company fighting to win you back: Once heralded as the next Nike, Under Armour has faltered, hurt by slumping sales and unflattering revelations about its corporate culture. It is grasping for a hold in the fiercely competitive sports apparel market even as it undergoes the biggest management shift in its history. Investors, analysts, and competitors are wondering if Under Armour can successfully redefine itself or whether the company's best days are behind it. (The New York Times)
"They stayed true to their muse, performance footwear and apparel, but that's just not where the business is. Right now, it's all about fashion and athleisure."
The money men selling shoes: Over seven years, footwear chain Payless went through a wringer of private equity and hedge fund stewardship that left it with inadequate technology, run-down stores and no financial cushion to survive an era of upheaval in retail. Here's what happens when private equity firms don't actually deliver on the financially efficient promises they make. (The New York Times)
"They're incredibly valuable on the financial metrics of understanding how to get costs out of the business … but they do not, do not, know how to operate a retail company."
THROWBACK.
The messenger of love: The Bräutigamseiche, or Bridegroom's Oak, is the only tree in Europe with its own mailing address. Every day, the 500-year-old tree receives dozens of lonely-hearts letters, and single people arrive from near and far, hoping to find a match. The tree is believed to possess matchmaking powers, and legend has it that its longest-serving mailman Karl-Heinz Martens is responsible for more than 100 marriages. Martens was a middle-aged divorcé who did not believe in fate. But that was before the tree changed his life, too. (The Atlantic)
"On the internet, questions match people, but at the tree, it's a beautiful coincidence, like fate."
MULTIMEDIA.
— Dwayne Johnson's life of leveling up
— Colin O'Brady's exploration of human potential
— Julie and John Gottman's laboratory of relationships
— Michelle Phan's addiction to validation
— Nancy and Ronald's enduring love story
— Mauri Melander Friestleben's cultivation of excellence
— The Olympic swimmers reaching for gold
AUDIO TO HEAR.
Dwayne Johnson's life of leveling up: Dwayne Johnson is making movie after movie, hosting SNL, doing ads for Apple, working out at 3:30 a.m., and spending time with his family. It's really, really hard to not like him. But he hasn't always been smiles and bear hugs. In this interview with Oprah, he opens up about his childhood, mental health, fame, and the recent death of his father. 
"The importance of finding your identity and being true to who you are is such a powerful thing."
Colin O'Brady's exploration of human potential: Colin O'Brady is an explorer and elite endurance athlete who has pushed the boundaries of what we understand to be possible. In this Finding Mastery episode, he delves into the mental framework that helps him achieve seemingly impossible athletic feats. It's just about the mental as it is about the physical.
"I'm a big believer that we are the stories that we tell ourselves, that we have the ability to override whatever mindset is happening inside.
Julie and John Gottman's laboratory of relationships: Julie and John Gottman are the co-founders of the famed Love Lab, a couples laboratory that opened in 1986 at the University of Washington. After putting thousands of marriages under a microscope, the Gottmans have developed mathematical models to measure and quantify something as mushy as love. In this episode, they discuss data-driven suggestions on how couples can adjust the course of their life together. This is a really good one.
"There's no shelf life to being in love … Fun, play, adventure, touch, affection, sexuality are all one fabrics, and they can stay alive forever."
Michelle Phan's addiction to validation: Michelle Phan became a viral sensation when she began posting beauty tutorial videos in the early days of YouTube. As YouTube's popularity grew, Michelle racked up millions of views — and millions of dollars. But then, at the peak of her fame and fortune, she disappeared without a word. Here's why she chose to bow out after 10 years, 385 videos, and over 1 billion views.
"In the age of social media, things can change so fast and you have to be ready to pivot as quickly as the change."
VIDEOS TO SEE.
Nancy and Ronald's enduring love story: Nancy and Ronald Reagan's partnership has been called "the greatest love affair in the history of the American Presidency." Even though their relationship played out on a very public stage, they remained devoted to one another for more than half a century. In this interview with NBC's Chris Wallace, we hear about some of their shared struggles, how they overcome worry, and the challenges of nourishing a relationship in the limelight. 
"There's nothing more important than approaching your own doorsteps and knowing that someone on the other side is listening for the sound of your footsteps."
Mauri Melander Friestleben's cultivation of excellence: This feature-length documentary follows the determination of an elementary school principal, Mauri Melander Friestleben, as she sets out to undo history. Not only does the state have the largest achievement gap between black and white children in the United States, Friestleben faced another seemingly impossible obstacle, with Lucy Laney Elementary at the bottom of the state's list of underperforming schools for two decades. It's a story of inspiration, heartbreak, perseverance and the power of love.
"Anytime anybody sees a child that looks forlorn, lost, not taken care of — spread your arms, scoop them up, ask questions later, but love them first."
The Olympic swimmers reaching for gold: The Netflix documentary Touch the Wall demonstrates the brutal journey of what it takes to reach the Olympics. It features the two similar but diverging paths of then-Olympic hopeful Missy Franklin and three-time U.S. Olympic champ Kara Lynn Joyce. The film is a story of competition, commitment, triumph, and a whole lot of adversity. I've recommended this one to all my family & friends. (Check out Kara's guest column for The Profile here.)
"It's almost like Kara has lost something that can't be found." 
---
Check out the Profile archives here: