The Profile: The most feared man in finance & the Instagram CEO taking away the likes
Good morning, friends!
Today, I'm introducing paid subscriptions for The Profile. Subscribe here or read on for more.
Since I sent the first issue of The Profile almost exactly three years ago, a lot has changed. The days of bad formatting are long gone. So are the gifs of Elon Musk drinking whiskey.
But there's one thing that hasn't budged in 156 weeks: the quality of the content. My sole priority when curating articles for this newsletter has always been to ruthlessly protect your time. I've read thousands of pieces and worked on The Profile at baseball games, on vacation, and in Italian coffee shops with no Wi-Fi.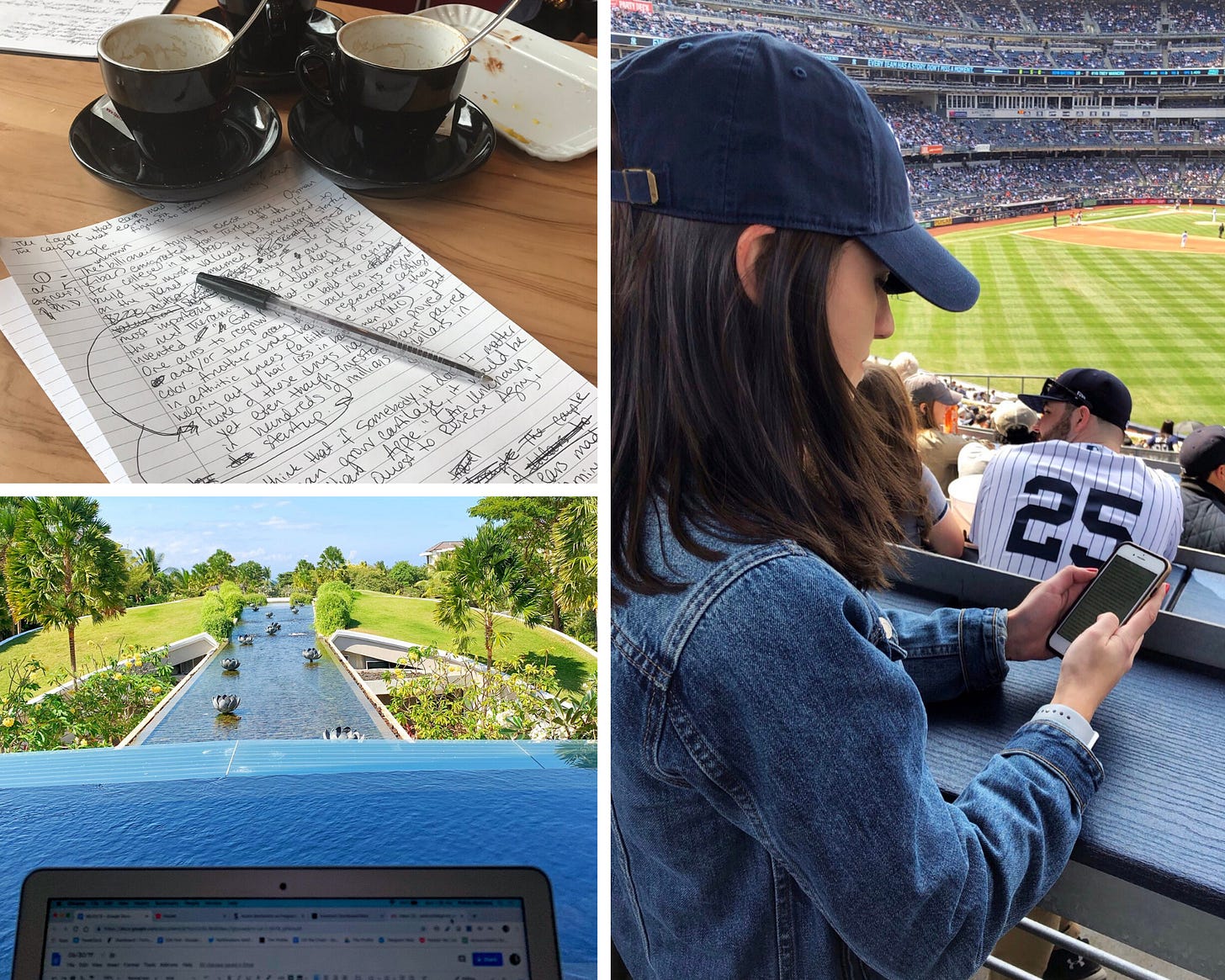 In a world that bombards us with clickbait and articles solely written to sell ads, The Profile has been a safe haven of high-quality, well-reported journalism. Ultimately, the content you consume on a daily basis will determine how you think and see the world. That's why The Profile acts as a content quality filter, sifting through hundreds of stories to provide a wide range of articles that will make you pause and see things from a different perspective.
We claim we invest in our health, but we neglect our content diet. As author Haruki Murakami said, "If you only read the books that everyone else is reading, you can only think what everyone else is thinking." That's why this newsletter features an array of stories you may not have otherwise encountered so you can choose what you put in your brain.
The Profile community has evolved into more than 10,000 wildly different types of people who want to learn and improve both personally and professionally. We do that by studying the wins and losses of the world's most successful figures each week.
👉
Announcement:
Now, I've decided to expand The Profile to include two new components: audio (podcasts, audio books, and speeches) and video (interviews, documentaries, and TED Talks). More and more of you have asked for recommendations of biographical content that you can listen to or watch. I was against it at first, but I've realized that great content doesn't just live in written form.
In order to make my work sustainable, I'll be making the two sections as part of a new, paid membership. If you'd like to continue getting the same exact format of The Profile (articles only), nothing will change for you — just like it hasn't in three years. 
If you'd like to get the complete suite of recommendations, you can support The Profile by contributing $10 per month or $50 per year.
As a paying subscriber, you will receive the article recommendations along with these member-only benefits:
A curated list of audio recommendations, including podcasts, audio books, and speeches

A curated list of video recommendations, including documentaries, video interviews, and TED Talks

Access to invite-only subscriber chats for members of The Profile community

Invites to exclusive in-person dinners and events in select cities

Full access to The Profile's content archive
I hope I've earned your trust over the last three years, and I'd be elated if you join me for the next chapter of The Profile. Below is a sample of what a member-only email will look like every week. Sign up now to receive all of this starting next Sunday. 
PROFILES.
— The mysterious figure in the White House [**HIGHLY RECOMMEND**]
— The most feared man in finance
— The Instagram CEO taking away the likes
— The writer selling good ideas
— The psychics charging $740,000 for a reading
— The family grappling with schizophrenia
— The dating app empire making empty promises
---
PEOPLE TO KNOW.
The mysterious figure in the White House: People were worried when Donald Trump tasked his son-in-law Jared Kushner with some of the nation's hardest problems. But over the course of Trump's term, few people have been as influential as Kushner. He was an architect of the bipartisan criminal-justice reform bill. He helped negotiate a revamped trade deal with Canada & Mexico. His push to tighten America's embrace of Saudi Arabia and Israel has altered Middle East politics. This profile explores Kushner's unusual rise within the White House. (TIME)
"Nobody has more influence outside the White House than Jared. He's No. 2 after Trump."
The most feared man in finance: Leon Black is the most feared man in the most aggressive realm of finance. The ruthless founder of private equity firm Apollo Global Management skates on the edges of other people's catastrophes and somehow manages to walk away richer. Here's his playbook. (Bloomberg)
"One way or another, Black always wins."
The Instagram CEO taking away the likes: Adam Mosseri, the CEO of Instagram, wants to keep the platform a safe, special space. That means he wants to eliminate public "likes." "I just don't want to piss anyone off," Mosseri says. But that's going to be nearly impossible given that likes are the social media currency underpinning an entire influencer economy. (The New York Times)
"Living a life to someone else's standards of what cool is is not a good way to live."
The writer selling good ideas: Author Malcolm Gladwell is an intellectual hedonist: his big idea is that ideas should be pleasurable. Rather than trying to persuade you, he seeks to infect readers with his enthusiasm: isn't this interesting? But in a time of hyper-polarization and divisive public opinion, does he still have something to say? (New Statesman)
"What I'm really interested in is joy in intellectual play. The unexpected turns that ideas can make is, to my mind, one of the greatest pleasures of being alive."
The psychics charging $740,000 for a reading: How much would you pay to protect your family from forces seemingly beyond your control? Is any price too high? This profile explores the strange, predatory, and lucrative world of psychics who have successfully scammed customers out of their life savings, and the private investigator who's trying to put a stop to it. (GQ)
"It's like a cult leader that has people under his control and they feel that they have to stay in the cult—but it's one-on-one."
The family grappling with schizophrenia: What a story. This feature profiles one person's 20-year mental health journey as he spiraled from a high school star and an academic all-American on the Arizona State University football team to a ward of the state of Maryland. It explains in vivid detail what schizophrenia does to families — and why the mental health system can't keep up. (Washington Post Magazine)
"Protecting the mentally ill, you become mentally ill just trying to get it all together."
COMPANIES TO WATCH.
The dating app empire making empty promises: Whitney Wolfe Herd set out to build a safer dating app for women, but it's not clear that she's made a measurable difference. Bumble vowed to keep women safe and create more equitable relationships, but the company failed to provide tangible evidence that it was successful. This scathing deep-dive into the dating app empire shows there's a difference between female empowerment and female marketing. (Bloomberg)
"We're not here to capitalize on equality."
MULTIMEDIA. 
— The Kardashians on building a business empire
— Warren Buffett's secrets to life, wealth, and happiness
— Aaron Hernandez's troubled mind
— Bob Iger on averting crisis
— Tara Westover's unrelenting pursuit of learning
— Amelia Boone's art of suffering
— Naval Ravikant's treasure trove of ideas
— Sara Blakely's impossible persistence
— Brandon Stanton's empathy for regular people
— Gay Talese's storytelling process
VIDEOS TO SEE.
The Kardashians on building a business empire: In this fascinating interview, Kris Jenner and Kim Kardashian sit down with New York Times' Andrew Ross Sorkin to discuss how they built not just a brand, but an obsession. The Kardashian complex is a billion-dollar cult built on selfies, products, and tears. Ten years and 600 million social media followers later, it's undeniable this family has marketing and self-promotion down to a money-making science.
"This whole thing was the perfect storm. Having everyone in the family on board, we were willing to show the good, the bad, and the ugly."
Warren Buffett's secrets to life, wealth, and happiness: In this (free) HBO documentary, you really get a sense of what Warren Buffett is like as an investor, father, husband, and philanthropist. There are a few moments in there where it really makes you see him in a different light. The thing that struck me most is how big of an impact his first wife Susie had on him. Her death rocked his world. "It's a very strange thing love, you can't get rid of it," he says. "If you try to give it out, you get more back. If you try to hang on to it, you lose it."
"The truth is that I'm here in my position as a matter of luck."
Aaron Hernandez's troubled mind: This just-released Netflix docu-series on Aaron Hernandez will have you hooked. He lived a life of secrets — about his childhood, his football career, his sexuality, his drug habits, and his fascination with violence. The documentary explores the question of what drives someone to kill? Is it your brain, your environment, or are you simply born to be a murderer?
"How can an individual who has everything get involved in something like this?"
Bob Iger on averting crisis: In this wide-ranging interview with Oprah, Disney CEO Bob Iger opens up about seeing his dad struggle with manic depression, dealing with a crisis when a child was killed by an alligator at a Disney resort, and cultivating a friendship with Steve Jobs. Here are just a few of the lessons he's learned from 15 years as CEO of Disney.
"While this success, this notoriety, and this title has changed my life in many ways, it hasn't changed my life completely. I'm still who I was at 48 without ever being named CEO."
Tara Westover's unrelenting pursuit of learning: Tara Westover wrote the haunting memoir Educated, which is about her upbringing in a survivalist family in the mountains of Idaho. Tara was 17 the first time she set foot in a classroom where she learned about world events like the Holocaust and the civil rights movement. She discovered a new kind of life — one that took her to Brigham Young University, Harvard, and Cambridge. In this conversation at The Aspen Institute, she explains how her love for learning led her to achieve success at the highest levels.
"People no longer feel that people on the other [political] side are part of the same tribe. You can't persuade anyone by yelling at them."
AUDIO TO HEAR.
Amelia Boone's art of suffering: Dubbed "The Queen of Pain," Amelia Boone is a corporate attorney at Apple by day and an obstacle endurance racer by night. She signed up for her first Tough Mudder race at age 28 when she realized she couldn't do a single pull-up. She believes that conquering fear and mastering the art of suffering is where freedom lies. In this Farnam Street podcast episode, Boone explains how she fights physical and mental fatigue in the moments when most people quit.
"I'm not the strongest, I'm not the fastest, but I'm really good at suffering."
Naval Ravikant's treasure trove of ideas: Naval Ravikant went on Joe Rogan's podcast, and the product was a wide-ranging conversation filled with ideas for days. They discuss everything from universal basic income to wealth creation to attaining happiness to the meaning of life.
"I don't care how rich you are. I don't care whether you're a top Wall Street banker, if somebody has to tell you when to be at work, what to wear and how to behave, you're not a free person. You're not actually rich."
Sara Blakely's impossible persistence: At 27 years old, Sara Blakely was selling fax machines and desperate to reinvent her life. So she came up with Spanx — hosiery that eliminates panty lines — and set to work on building her business. In 2012, she was named the youngest self-made female billionaire. In this How I Built This podcast episode, she breaks down how she did it with no business background, no connections, and no outside funding. 
"I did not have the most experience in the industry and I did not have the most money. But I cared the most." 
Brandon Stanton's empathy for regular people: I encourage you to listen to this Tim Ferriss podcast with Humans of New York photographer Brandon Stanton. Brandon was a bond trader, lost his job during the recession, and decided to launch a blog telling the stories of regular people through photography. A decade later, HONY has garnered more than 25 million followers on social media.
"I want to know the story. And I just ask, and I ask, and I ask. And if something's not quite making sense, I wanna know why. And so, I ask more, and I ask more."
Gay Talese's storytelling process: Gay Talese's famous 1966 Esquire profile, "Frank Sinatra Has a Cold," became the gold standard of profile writing even though he never once spoke with Sinatra himself. This iconic feature pioneered a form of "new journalism" that paired factual reporting with vivid storytelling that had previously been reserved for fiction. In this Longform podcast episode, Talese opens up about his writing process and endless curiosity. 
"It's a life of getting off your ass, knocking on a door, walking a few steps or a great distance to pursue a story. That's all it is: a life of boundless curiosity in which you indulge yourself and never miss an opportunity to talk to someone at length."
---
As a final reminder, members will receive the best longform article, audio, and video recommendations starting next week. I hope you join me for the next chapter of The Profile.