Discover more from The Profile
The Profile features the best long-form stories on people and companies in business, tech, sports, entertainment, and more.
The Profile: The man who feels no fear & the Warren Buffett of Yale University
Good morning, friends.
Two weeks ago, I wrote about Bob Kearns, a college professor who invented the intermittent windshield wiper. He got the idea after accidentally shooting a champagne bottle cork into his eye, which caused him to start thinking about the mechanics of the eyelid. An eyelid doesn't blink at a predetermined rate, but rather moves rapidly when a foreign object lands on the surface of the eye. He reasoned that the windshield wiper of a car should act similarly — altering its wiping speed depending on the amount of rain hitting the windshield.
Today, I want to introduce you to another inventor whose name will be everywhere soon because his life story is being turned into a movie.
Richard Montañez grew up in a migrant labor camp in Southern California where he helped his grandfather pick grapes. By the time he was 18, Montañez had dropped out of school, and he couldn't read or write. He found a job as a janitor at a Frito-Lay plant, and his grandfather told him: "Make sure that floor shines. And let them know that a Montañez mopped it." 
Montañez may have been a janitor with a 4th-grade-level education, but he was also a janitor with an idea. While he was working at the plant, he saw a corporate video in which Frito-Lay's CEO uses this corporate cliché: "We want every worker in this company to act like an owner." Except Montañez took it to heart.
One day, a machine broke in the assembly line at the plant and a batch of Cheetos didn't get dusted with their standard orange cheese powder. Montañez took the plain Cheetos home and put chili powder on them and thought they were pretty good. He decided to call the CEO "not knowing you weren't supposed to just call the CEO."
Frito-Lay's then CEO Roger Enrico gave Montañez two weeks to prepare a presentation for him and the company executives. He and his wife went to the library to check out a book on how to put together a marketing presentation, created hot cheeto samples, and designed small baggies to package the product. He says he didn't speak English well and wore a $3 tie to the presentation. When asked if he was nervous, he says:
"This is the antidote to fear: Hunger. As ridiculous as I looked, as foolish as I felt, my hunger was greater. I was hungry for a different lifestyle. I was hungry for a change. I was hungry to be someone different." 
And that's how Flamin' Hot Cheetos were born. Montañez's idea would make the company billions of dollars and become one of history's most celebrated and iconic snack foods.
I recently listened to a podcast in which Montañez recounts his life story, and it's so damn fascinating. He is now a high-ranking exec at PepsiCo, and he maintains that "brilliance isn't a diploma on the wall." For more on his story, listen to the podcast here.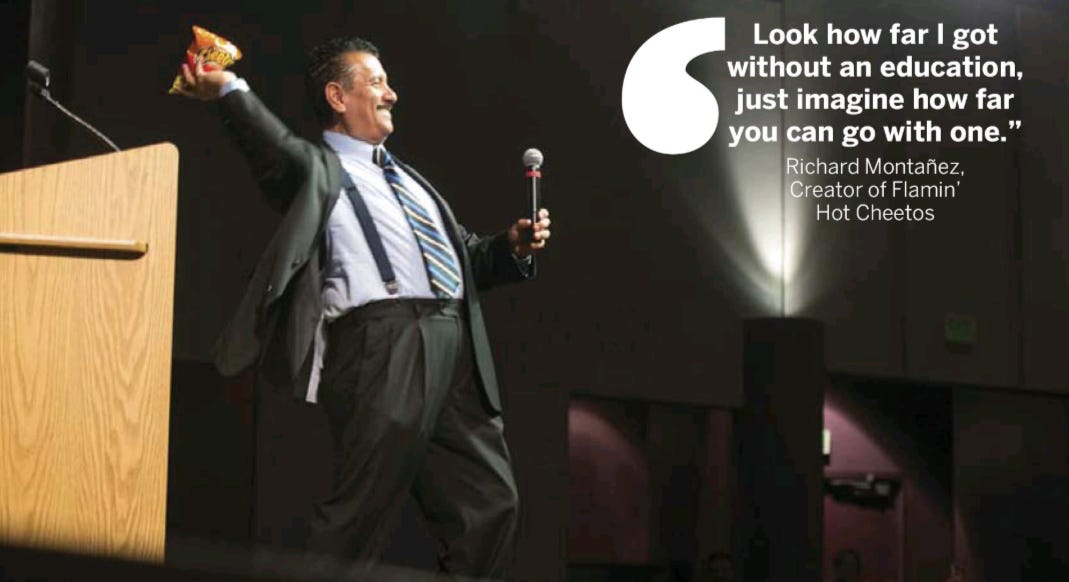 Each and every one of this week's stories are must-reads.
— The man who feels no fear [**HIGHLY RECOMMEND**]
— The Warren Buffett of Yale University
— The heir to the Trump empire
— The queen of retirement
— The funniest guy in a suit and tie
— The actor grappling with loneliness
— Jennifer Aniston's fresh start
— The founder building the Starbucks for dating
— The John Gotti of Amsterdam
---
👉 If you enjoy reading profiles of the most interesting people and companies, tweet to tell others about it:
---
PEOPLE TO KNOW.
The man who feels no fear: Thanks to the "Free Solo" documentary, Alex Honnold has become a paramount symbol of fearlessness. After becoming the only person to ever free solo El Capitan, what's next for the death-defying rock climber? What's next is to begin a life with his girlfriend Sanni ... which is surprising to anyone who saw the documentary. In it, he says, "I will always choose climbing over a lady." Yet here they are, living together. In a house … with a home gym and an indoor climbing wall. As the story notes, "An essential part of him seemed to die on El Cap because he survived it … He's neither free nor solo anymore." (ESPN)
"I'm definitely more mellow now."
The Warren Buffett of Yale University: David Swensen is a legend at Yale. He's the money manager who has been in charge of the endowment—the multibillion-dollar pool of money that makes up Yale's fortune. It's largely thanks to Swensen that the university can woo star scholars and that its admissions can be need-blind. The endowment was worth $1 billion in 1985 when Swensen started at Yale; today it's $29.4 billion. Here's how he built a template for long-term investing now known as "the Yale model." (Bloomberg)
"The problem is that when you're motivated by profit, oftentimes you stray."
The heir to the Trump empire: In considering which of his kids should carry on his legacy, Donald Trump is caught between competing visions for the future of the family. Ivanka Trump was the heir apparent—beautiful, telegenic, and compulsively image-conscious. Don was the screw-up, the blowhard, the hunter. Then everything changed. Take a look inside the fascinating succession battle dividing the Trump family. (The Atlantic)
"[Trump's] favorite fatherly maxim was 'Don't trust anyone'—and he liked to test his children by asking whether they trusted him. If they said yes, they were reprimanded."
The queen of retirement: Tina Turner has become a symbol of so many things that she can't quite relate to. The idea of connecting her life to the feminist movement or recasting it through #MeToo feels alien to her. "I identify only with my life," she says. While everyone was making her into a symbol, "I was busy doing it. Doing the work." Now, Turner, 79, has been retired for 10 years, and she is still basking in all of the nothing she has to do. "I was just tired of singing and making everybody happy," she says. (The New York Times)
"I had a terrible life. I just kept going. You just keep going, and you hope that something will come." 
The funniest guy in a suit and tie: A decade into his career, comedian John Mulaney has mastered the art of finding the humor in the mundane and the banal. He's never funnier, as far as he's concerned, than when he gets "exasperated about things you shouldn't get that upset about." There's one topic his comedy won't touch though: politics. "I have a problem with 'Comedians are really brave and we need them now more than ever,' " he says. "It's like, we're not congressmen. We're court jesters." (Esquire)
"I've never been relevant, so I'm not worried about feeling irrelevant."
The actor grappling with loneliness: In the 1990s, Brad Pitt was on the cover of every tabloid. Everything he did then was scrutinized: His hits, his misses, his hair, his body and especially his romances. His life, he says, wasn't "the lottery it appeared from the outside." It got to the point that he could no longer tell his own feelings and wants apart from the ones impressed upon him by others. Over time, he became a man with all the fame in the world but no desire for any of it. (The New York Times)
"The fact is, we all carry pain, grief and loss. We spend most of our time hiding it, but it's there, it's in you. So you open up those boxes."
Jennifer Aniston's fresh start: Jennifer Aniston just turned 50. "It's so weird. There's so much doom around that number," she says. Since Friends ended, Aniston has had mixed reviews for mainstream movies and a couple of outright flops. But now, she says she's entering the most creatively fulfilling period of her life. Fifteen years after Friends, she is returning to TV in Apple's "The Morning Show" as a news anchor dealing with ageism, sexism and her co-host's misconduct. (The New York Times)
"I've failed. I've succeeded. I've overcome. I've, you know, I've stayed around. I'm still here."
The founder building the Starbucks for dating: Bumble CEO Whitney Wolfe Herd wants to go beyond dating. She believes the next frontier lies in extending into the real world and combining the digital and physical experience. Inspired by the brands of McDonald's and Starbucks, she created the concept for Bumble Brew, a café and wine bar where Bumble users will be able to meet in person. Wolfe Herd needs her dating service to grow — and fast. But the question remains: Will she be able to change behaviors on a global scale? (Fast Company)
"We're trying to say, 'Let's change thousands of years of behavior. Globally.' Do you see why this is so challenging?"
THROWBACK:
The John Gotti of Amsterdam: Astrid Holleeder agreed to testify against the most notorious criminal in the Netherlands, a man known as "De Neus," or the Nose. It was a risky choice because "everyone else who has turned on him ended up dead." Astrid used to be his legal adviser until Holleeder went into hiding. More importantly, she is his younger sister. If you think you've got family troubles, you've got nothing on the Holleeders. This is a real-life thriller that keeps you captivated until the end. (The New Yorker)
"The closest relationships are the ones that are based on fear, threats, and violence. If you are together with someone in that situation, you have a bond for life."
---
If you enjoyed this piece, click the button below to sign up for a free subscription: