The Profile: The king of venture capital & the founder who lost $1 billion in one month
Good morning, friends.
Today, I'm honored to share with you a guest column from one of my favorite writers on the internet: David Perell. 
If you're already familiar with David, you're likely a religious reader of his work. If you're not, get ready to spend your entire Sunday reading essays that will hold your attention for hours. My personal favorites are What the Hell Is Going On and News in the Age of Abundance. David's a sharp writer, and his words will absorb you. 
In addition to producing thought-provoking essays, he also runs an online writing school called Write of Passage, and a creativity-focused Summer Camp for 8 to 12 year-olds.
David wrote a guest post for The Profile on how he used a people-driven framework to learn new ideas. Share your feedback with him here. I hope you enjoy.
----
How You Can Benefit From People-Driven Learning
By David Perell
The Internet is inspiring a people-driven model of online learning. It's the end of intellectual silos and soul-crushing specialization. 
The traditional learning environment inhibits the cross-pollination of ideas. It's led to a world of isolated subjects where cutting-edge discoveries in fields like physics and mathematics can only be understood by a small number of people. 
For example, consider the layout of our university campuses. Earlier this year, I audited a philosophy class at Columbia. Before class, I finished my reading in the coffee shop at the journalism school on the western side of campus, met my friend at the business school on the northern side of campus, and walked with him to the philosophy building on the eastern side of campus.
To show fragmentation of academia the graph of the sciences below highlights the disconnect between fields as measured by co-citations between fields.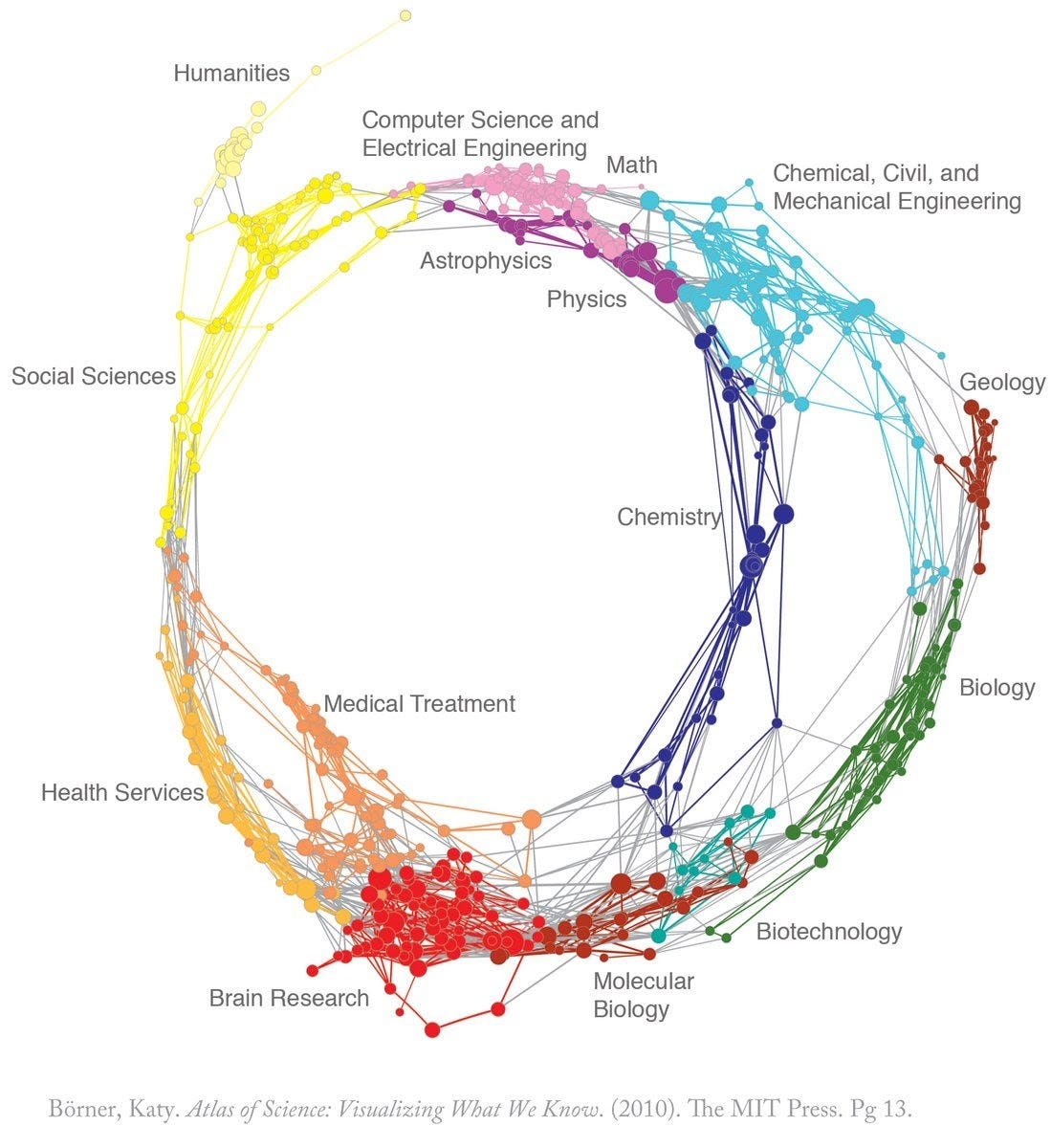 — — 
How Learning on the Internet Contrasts This Model
We're desperate for an alternative to siloed learning. With its people-driven approach to information discovery, online learning will inspire a generation of polymathic thinkers. A kingdom of epiphanies is waiting for intellectual ambassadors who can connect the dots across disciplines. 
The People-Driven Method is driven by people instead of professors and the serendipity of the Internet instead of the rigidity of a classroom curriculum. It's also a more natural way to learn because humans are wired to be interested in other people. For proof, look at People Magazine. Beginning in the 1970s, it had the largest paid audience of any American magazine. Today, it's the most valuable magazine in the world. 
How can you benefit from people-driven learning? The best way to get started is to form a Personal Monopoly.
— — 
How to Benefit From People-Driven Learning: Build a Personal Monopoly
You can benefit as a creator and a consumer. 
As a creator, you should build content based on a personal monopoly — your unique combination of skills, interests, and personality traits. 
The Internet creates winner-take-all markets, which reward people who define and master their own areas of expertise. Unlike school, it rewards people who create instead of compete. In school, we are taught the same things. We learn the same subjects so we can ace the same standardized tests, attend the same colleges, and work for the same prestigious companies.
But the Internet rewards people who are different. It rewards learners who escape the well-worn path and fuse their interests to create their own discipline instead. 
Here are three examples: 
Meagan Morrison: She built a career around travel, writing, and a drawing style defined by bright colors, fashionable outfits, and sweeping brush strokes.

Peter Attia: By focusing on healthspan (how many years you're healthy for) instead of only lifespan (how long you live), he created his own way of thinking about longevity.

Casey Neistat: Neisat fused his passion for filmmaking, skateboarding, and consumer technology, to pioneer vlog-style YouTube videos. 
— — 
How You Can Take Advantage of People-Driven Learning
Building a Personal Monopoly is the best way to thrive as a creator, but there are two ways for consumers to take advantage of people-driven learning. 
Follow the Trader Joe's Strategy

Become a Fan
I'll take each in turn.
The Trader Joe's Strategy: This strategy revolves around finding an online curator to be your learning guide. They will do the hard work of finding information for you, so you can spend less time searching for ideas and more time consuming them.

What makes a good online curator? A good curator will reduce the number of options you have to consider. In that way, they're like Trader Joe's. The typical grocery store has 35,000 items in a store, but the typical Trader Joe's only has 3,000. The chain scouts and sources their products, so customers don't have to sort through tons of choices. Compared with other grocery stores, Trader Joe's has fewer options with higher average quality. It's no coincidence that of all the grocery stores I know, Trader Joe's has the most loyal customers.

Example: Take a look at James Clear's list of great speeches and Patrick O'Shaughnessy's list of great books.


Become a Fan:Resist the conventional wisdom to start by reading all a creator's books. If you're anything like me, you do this naturally. I'm spending more time reading summaries and less time reading books. Yes, I feel guilty about it. But no, it's not a bad thing. Start with articles, summaries, and podcast interviews, and only purchase their books when you're ready to devote 15-20 hours to reading their book.  

Example: I want to learn about Gilles Deleuze, who is one of the most important philosophers of the 20th century. His ideas are famously complicated, so I familiarized myself with his ideas by listening to summaries. I started with a 15-part series from John David Ebert and a series of lectures by Justin Murphy. Then, I listened to podcasts hosted by Deleuze scholars. Unlike books, lectures are affordable and I can listen to them while I'm on-the-go, which makes the learning process efficient and enjoyable. 
Similarly, studying Marshall McLuhan led me to Lewis Mumford's critiques of technology, Water Ong's perspectives on literacy, and Martin Gurri's analysis of the political impact of information abundance. All those ideas led to the most popular essay I've ever written: What the Hell is Going On. True to the people-driven learning mentality, studying McLuhan helped me find my personal monopoly: teaching online writing. Following the intellectual breadcrumbs of his mind is the best caution engine I've found, better than any curriculum or social media feed. 
People-driven learning is more fun and efficient than the traditional learning model. As you curate your social media feeds, you can access an entire library of ideas instead of having to slog between university buildings to engage with new ideas. As you cross-pollinate ideas, you'll find the synthesis of new ideas and make unprecedented connections between them.
---
👉 If you enjoyed reading this guest column by David Perell, tweet so others can enjoy it too!
---
…. And a few more things:
THE DOSSIER: On Wednesday, you received The Profile Dossier, a comprehensive deep-dive on a prominent individual. It featured Esther Perel, a renowned psychotherapist known for helping couples deal with infidelity, betrayal, loss, and more. Check it out here.
THE PROFILE LIVE: If you missed last week's interview with Dr. Robert Mittendorff about the current state of COVID-19, you can watch a replay of it here.
PROFILES.
— The king of venture capital (**HIGHLY RECOMMEND**)
— The CEO launching a startup amidst disaster
— The Musk brother dealing with crisis
— The weird kid who sparked a movement
— The founder who lost $1 billion in one month
— The short-seller extraordinaire
— Quarantine's star athletes
— The football player who made the promise of a lifetime
— The star who wants to settle down
---
👉 If you enjoy reading The Profile, feel free to share it with friends!
---
PEOPLE TO KNOW.
The king of venture capital: Through his $100 billion Vision Fund, Masayoshi Son has both astonished and confounded Silicon Valley. So what on earth is going on inside Softbank following the coronavirus crisis and the WeWork implosion? Masa, the legendary investor who has been referred to as "a one-man bubblemaker" and "a big stack bully," claims he has a plan. "Tactically, I've made regrets," he says. "But strategically, I am unchanged. Vision-wise? Unchanged." This is a must-read. (Forbes)
"SoftBank is considered a blight on the ecosystem, not a savior. The whole industry would be happier if they had never shown up."
The CEO launching a startup amidst disaster: Quibi, the short-form mobile video platform, launched with the idea that its app could keep us entertained while commuting or waiting in line at the coffee shop. COVID-19 had other plans. But CEO Meg Whitman remains optimistic she can outwit this pandemic. Because if Quibi succeeds, it will be the biggest success of her career. And if it doesn't? Well, it'll be a hell of a way to light $1.75 billion on fire. (The Verge)
"You have to be willing to change course, like literally on a dime."
The Musk brother dealing with crisis: Kimbal Musk has survived a lot in his 47 years of life. He survived the near destruction of too many businesses to count. He got through the possibility of bankruptcy during the Great Recession. He even recovered after a broken neck left him paralyzed for three days. But the COVID-19 pandemic? That he didn't see coming. He and brother Elon joke that the family's rules for dealing with a crisis are: "No. 1: Don't panic. No. 3: Safety third." There isn't a second rule. Does the restaurateur have a formula to guide us through a global pandemic?
"Be grateful because you never know when everything might come to an end."
The weird kid who sparked a movement: Weird Al Yankovic has flipped the polarities of weirdness and normalcy for multiple generations. And it all started with his own awkward adolescence. The nickname "Weird Al" began as an insult during his first year of college. But Al slowly began to embrace it, and reclaim it as a badge of honor. Although he spent his whole childhood being either ignored or bullied, the validation he got when he set foot on a stage was transformative. This is a profile that will make you crack a smile even in this impossible new world we live in. (The New York Times)
"Thank you for letting us all be ourselves."
The founder who lost $1 billion in one month: Mark Dixon, the founder and CEO of the International Workplace Group, lost a billion dollars due to the coronavirus shutdown. But here's the thing: Dixon has been here before. Having survived the original dot-com crash, he's built IWG in a conservative way with a laser-focus on profits. Dubbed the "anti WeWork," can Dixon's business successfully navigate this unforeseen disaster without flaming out? (Forbes)
"I'm a paranoiac person. I think that's the only way to run a business. You've got to go for the opportunities but be healthily paranoid about everything going wrong."
The short-seller extraordinaire: Gabriel Grego loves a good fight. In fact, he's made it his life's work to take down bad guys. As managing partner of Quintessential Capital Management, Italian native Grego is a short-seller who makes big-time profits by taking down malevolent market actors. But in the age of COVID-19, newly declared short-selling bans threaten his most essential weapon. (Institutional Investor)
"Until you are proven right, you are the magnet of evil. Then when the fraud is proven it's, 'Thank you, thank you, thank you.'"
Quarantine's star athletes: You know who has been preparing for this new quarantine reality their whole life? Professional video game players. With sports cancelled due to coronavirus, pro e-gamers like Ben Lupo and his peers are having the best financial year of their lives. Here's a peek into the world of live, professional e-gaming that's taking the place of good, ole-fashioned in-person sports. (The New York Times)
"People are finding ways to distract themselves a bit from what's going on in the outside world. If I'm helping, that's fantastic."
The hottest free agent in Los Angeles: Gloria Leon began working as a waitress at the Beverly Hills delicatessen Nate 'n Al's in 1979, nine years after she immigrated to the U.S. from Mexico. Over the last 41 years, she's become one of the most influential people in the community, beloved by the power brokers who were her longtime customers. She had been preparing for retirement, but the virus robbed her of a proper last goodbye. (Los Angeles Times)
"There is no politician, there is no City Council member, there is no billionaire, who is more influential in Beverly Hills than Gloria. Period."
The football player who made the promise of a lifetime: On paper, Kenneth Murray is a star linebacker who's on the verge of NFL riches. But in his mind, Murray is much more than that. He's a caretaker with a huge responsibility. Ten years ago, Murray made a promise to three special-needs kids that he plans to keep forever. This is a story that will touch your heart. (NFL)
"I have responsibilities others don't. I want to make sure my siblings are taken care of for the rest of their lives."
The star who wants to settle down: When you're Lady Gaga, there's little left to achieve in your career. She's won 11 Grammys, launched her own beauty company, and broken ticket-sale records. So what's next for the star who has reached stratospheric fame? "Marriage," she says. "I will say I am very excited to have kids." Here's what Gaga's second act entails. (InStyle)
"I look forward to being a mom. Isn't it incredible what we can do?"
---
This installment of The Profile is free for everyone. If you would like to get full access to all of the recommendations, including today's audio and video sections, sign up below.
---
AUDIO TO HEAR.
Fred Haise and Jim Lovell on surviving Apollo 13: Fifty years ago, roughly 200,000 miles away from Earth, James Swigert, Fred Haise, and Jim Lovell were the crew members of Apollo 13. When Swigert flipped one switch for a routine churn of the liquid oxygen tanks, oxygen tank number two exploded, which led to a chain reaction that left the crew in a dire situation. Swigert then says the famous phrase: "Houston, we have a problem." In this podcast, Lovell and Haise recount their fateful Apollo 13 mission, what it took to survive, and how it's affected their outlook on life going forward. (Link available to paying subscribers.)
"I really learned that you can't suddenly have a problem, and then just close your eyes and hope there's a miracle coming on, because the miracle is something you have to do yourself."
Erika Nardini's $450 million-exit: Erika Nardini's the CEO of Barstool Sports, the cult-like media company valued at $450 million. For much of her career, Nardini worked in the corporate world at companies like Microsoft, AOL, and Fidelity Investments. And then she decided to take a risk by joining Barstool. Even though people told her she was making the biggest mistake of her career, she still did it. This is an interesting conversation about what she was thinking when she joined and the steps she took to whip "the bad boys of the internet" into shape. (Link available to paying subscribers.)
"You have to remember that a career is really, really long."
Adam Grant on work post-COVID-19: Are you wondering about how the mass quarantine will change the future of work? In this conversation, psychologist and author Adam Grant discusses the impact working from home will have on productivity, creativity, and "burstiness." He believes flexible work will change what a "traditional job" entails for decades to come. (Link available to paying subscribers.)
"We'll start to see organizational identification go away. You don't really need to work for a company anymore."
Sheryl Sandberg on resilience in times of uncertainty: Facebook COO Sheryl Sandberg knows a thing or two about resilience. After her husband passed away unexpectedly, Sandberg explains how the tragedy made her stronger beyond what she thought was possible. "Resilience is our ability to deal with hardship. But it is not something that we have a fixed amount on, that we draw on." In this conversation, she shares some lessons on how to cope with the unexpected. (Link available to paying subscribers.)
"You build [resilience] by recognizing that whatever you're going through almost certainly is not permanent. And that applies to the very worst things you go through."
VIDEOS TO SEE.
Anna Wintour's eye for perfection: It's an understatement to say that Vogue's renowned editor Anna Wintour is a perfectionist. Referred to as "the high priestess of fashion," Wintour wants things done in a very particular way because she believes every detail matters. This documentary takes us into Wintour's world as she prepares the highly-anticipated September issue. Take a look at just how demanding the creative process can be. (Link available to paying subscribers.)
"Fashion isn't about looking back. It's always about looking forward."
Michael Davenport's unbreakable spirit: This mini-documentary is what you need to watch during this grueling time. Michael Davenport is a renowned artist in Athens, Ga., whose story embodies the power of resilience. At age thirteen, Michael was involved in an accident in which he lost both of his arms. He had no drawing ability before the accident, but at age 16, he discovered he could draw with his mouth. (Link available to paying subscribers.)
"Life is what you make of it. It's up to the individual to get up every morning and show that you still have that spirit to be what you want to be in life."
Bill Gates on how to respond to the COVID-19 pandemic: Five years ago, Bill Gates said the world was "not ready for the next epidemic," urging investment in healthcare and medicine. He was right. Now, he explains how we can best respond and move forward. Gates addresses our anxiety and emphasizes that testing and self-isolation are essential. Here's what it'll actually take to effectively contain and tackle this virus. (Link available to paying subscribers.)
"I'm very positive that this should draw us together. We will get out of this, and then, we will get ready for the next epidemic."
---
Members receive the best longform article, audio, and video recommendations every Sunday. Join the club by signing up below: