The Profile: The founder living in an alternate reality & the biggest dealmaker in medicine
Power is the ability to influence, and influence is the ability to bring about change.
Power is the ability to influence, and influence is the ability to bring about change.
This week, we saw power in its finest form. It all started when the popular blog Humans of New York (HONY) shared a multi-part profile narrative on Stephanie, a 76-year-old woman who worked as a burlesque dancer named "Tanqueray" in the 1970s.
Her story is one of great hardship, relentless determination, and an unyielding optimism that she could live a better life than the one she was dealt as a child. "Nobody has lived a life like Stephanie's," HONY creator Brandon Stanton writes.
Initially, Stanton was working on creating a podcast, which would detail Stephanie's fascinating life story. When the pandemic started, the duo continued their conversations over the phone. One week, Stanton went a few days without hearing from Stephanie, so he asked a neighbor to check on her. She had taken a bad fall and been on the floor for 72 hours without food or water before the EMTs broke down her door and took her to the hospital.
Stanton tried to cover her medical costs, but says it was going to be unsustainable for the long-term. He writes:
"I want to provide her with enough resources so that it's her decision, and not a decision forced upon her. But I'm not viewing this as charity. Stephanie brings a priceless resource to the table—her story. We're just going to tell that story using a new model. Instead of selling advertising, or selling it to a publisher, we're asking for voluntary contributions from anyone who's gotten value from Stephanie's narrative.

"If the story of her life has made you laugh, or cry, or think—please consider compensating the person who lived it. Because right now her story is the one thing she has to offer."
Stanton started a GoFundMe for Stephanie last week, and the money raised will be placed in a trust to ensure that it provides sustainable, long-term care.
As of last night, 62,000 complete strangers who read Stephanie's story have donated an average of $22 each for a total of nearly $1.4 million.
Before the fundraiser was ever created, Stephanie tells Stanton a story about when she went to a palm-reader:
"She told me that I'd live my entire life in New York City. And I'd only be in love once. And that it would be a tough life. And a lonely life. But that one day a lot of people would know my name. And the craziest shit about it, is that every single thing came true. Well, almost everything. Roberta told me that I'd come into some real big money one day. And that better happen quick. Cause I'm already 76."
Thanks to the HONY community, it now has. When Stanton updated Stephanie on the GoFundMe, "The first thing she said was: 'I'm going to have a heart attack.' The second thing she said was: 'Now I know why my hand was itching last night. My hand always itches when I'm coming into money.'"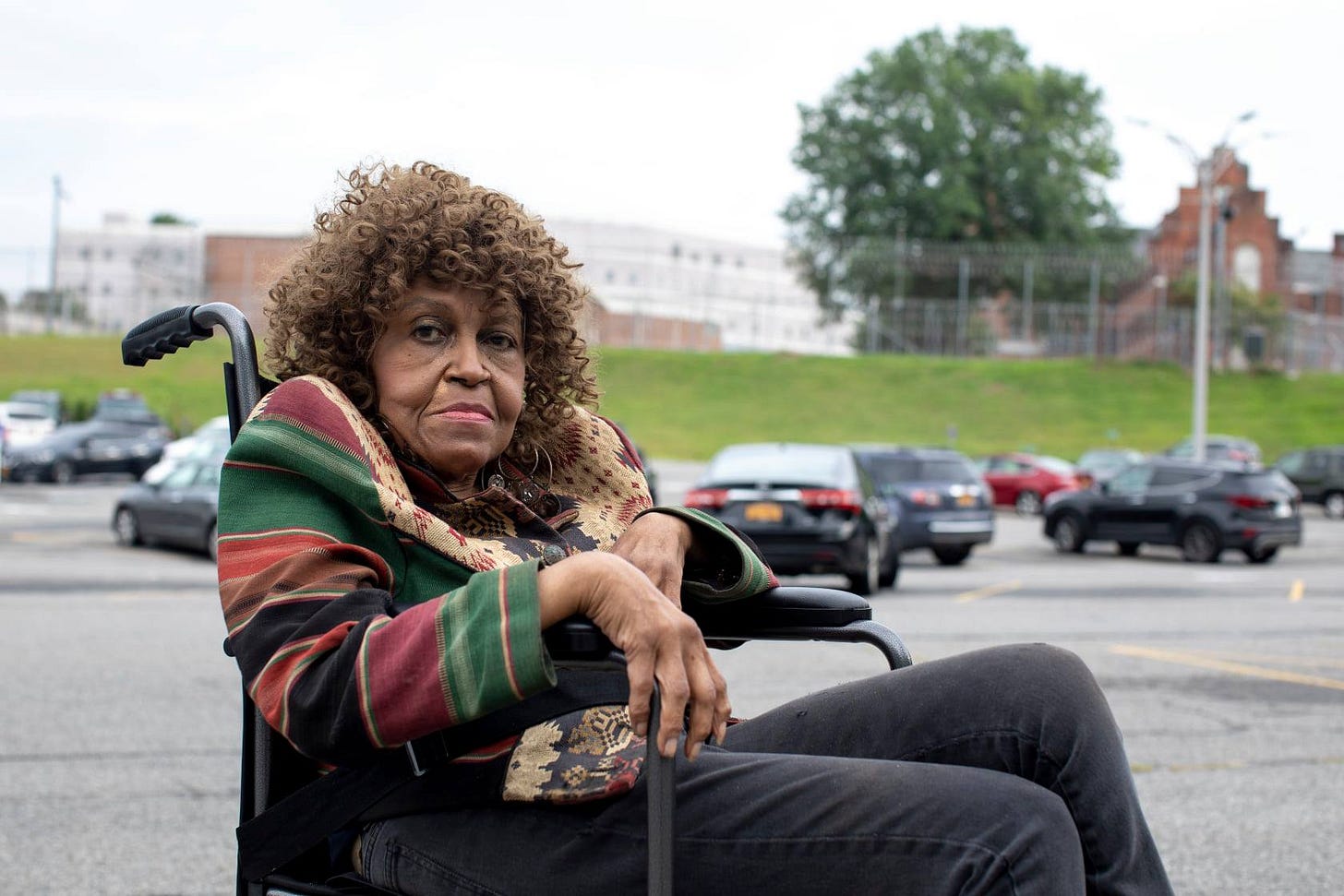 (Photo credit: Brandon Stanton, Humans of New York)
It's heartbreaking to think that Stephanie's life story would go undocumented if it wasn't for a total stranger's curiosity and willingness to listen. The first thing I thought after reading it was, "I should call my grandparents." Because there are many stories as wildly interesting as Stephanie's out there, many of which probably exist within our own families.
Most of all, the tens of thousands of strangers who contributed to the "Tanqueray Trust" demonstrate that the kindest, purest form of power exists within us all — the power to help another human being.
It reminds us that even in the face of great uncertainty and disheartening political polarization, our collective humanity always prevails.
THE PROFILE DOSSIER: On Wednesday, premium members received The Profile Dossier, a comprehensive deep-dive on a prominent individual. It featured Brandon Stanton, the photographer of Humans of New York. Become a premium member and read it here.
---
PROFILES.
— The founder living in an alternate reality [**HIGHLY RECOMMEND**]
— The music legend who never stops
— The hedge fund manager who ruined his career
— The biggest dealmaker in medicine
— The quarantine queen
— The NBA star who gained control of his identity
— The Texas tycoon on a testing crusade
— The artist doling out hope
PEOPLE TO KNOW.
The founder living in an alternate reality: For the last nine years, Magic Leap co-founder Rony Abovitz had been trying to develop an augmented reality headset with the help of $3.5 billion in funding he had raised from investors. Reality finally set in for Abovitz in May as it was clear that Magic Leap had been a colossal flop. In a tearful address over video conference, Abovitz told employees that he would resign. Here's an inside look at what went so very wrong. (Bloomberg; reply to this email if you can't access the article)
"Everyone was so bought in, they'd drunk the Kool-Aid together. Nobody stopped to say, 'This product sucks.'"
The music legend who never stops: Bruce Springsteen, who just turned 71, would right now be preparing for a world tour with the E Street Band. It was supposed to start in the spring of 2021, but that is not likely to happen. "My antenna tells me, at best, 2022," he says. "And I would consider the concert industry lucky if it happens then.…Once you hit 70, there's a finite amount of tours and a finite amount of years that you have." Even in the midst of a global pandemic, Springsteen hasn't slowed down. (Rolling Stone)
"Confronting one's mortality is both truthful and realistic, and it can assist people who are in that frame of mind — who may be leaving, or who had someone pass right now that they love."
The hedge fund manager who ruined his career: Daniel Kamensky founded his own distressed-debt hedge fund firm, Marble Ridge Capital, and grew assets from $17 million to $1 billion at the peak. He minted a reputation as a talented, aggressive negotiator. All of that changed on Sept. 3 when federal agents stormed into his home and arrested him on four counts of criminal fraud: securities fraud, wire fraud, extortion and bribery, and obstruction of justice. He had composed a six-word Bloomberg chat message that ruined his life and undid his career in a matter of hours. (Institutional Investor)
"It's inexplicable to me, what I read in the press. Inexplicable and completely out of character."
The biggest dealmaker in medicine: Is billionaire Patrick Soon-Shiong a well-respected scientist or more of a hype artist? According to this profile, it's a little bit of both. He's one of the planet's richest medical doctors, who made a $6.7 billion fortune developing breakthrough treatments for cancer and diabetes. Now, he's taking on the pandemic. "This is the crisis of our time," he says. "It's almost existential." (Forbes)
"While he's undeniably brilliant, Soon-Shiong is equally undeniably a blowhard."
The quarantine queen: It seems that Lady Gaga has masterfully navigated the disaster that has been 2020. Her album Chromatica was supposed to come out on April 10, but the release was pushed back due to the pandemic. Gaga and her team had spent 18 months putting together an album rollout plan that evaporated in a matter of days. Here's how they used a line of merchandise — rain boots, umbrellas, pillows, thongs, jockstraps, blankets, soap, and face masks — to bolster sales and play into the absurdity of 2020. (Billboard)
"I'm a savage when I want to write a pop song."
The NBA star who gained control of his identity: Here's one of the most important lessons NBA player Kevin Love has learned: Never tie your identity to anything other than your own name. "I didn't really know how to be comfortable in my own skin. I could never just be unapologetically Kevin, walking into a room," he writes. "I was never in the moment, alive. It was always the next thing, the next game, the next, next, next." (The Players' Tribune)
"It was like I was trying to achieve my way out of depression."
The Texas tycoon on a testing crusade: Tech billionaire Graham Weston got COVID-19 from his asymptomatic son. Since then, he has been on a crusade to persuade high-level politicians, teachers and fellow business leaders that the key to reopening schools and the economy is to test people who don't appear to be sick. (WSJ; reply to this email if you can't access the article)
"It's like looking for a needle in a haystack, except the needle is a match."
The artist doling out hope: Lizzo has song lyrics that promote unflappable confidence and positivity, including, "I don't need a crown to know that I'm a queen." Now, she's allowing herself to be hopeful in a time of great uncertainty. She's cautiously optimistic about the corporations that seem to be taking a stand, putting their dollars to work and pledging to hire people of color. Here's how she's encouraging people to take their "protest to the ballot box." (Vogue)
"She shows the world what strength and perseverance look like."
---
This installment of The Profile is free for everyone. If you would like to get full access to all of the recommendations, including today's audio and video sections, sign up below.
---
AUDIO TO HEAR.
Lisa Feldman Barrett on taking control of your mind: When your brain is preparing your body to do something, you have a cortisol surge. "It means your brain is preparing to make a big expenditure," says neuroscientist Lisa Feldman Barrett. "As a consequence, there are sensory changes in your body, and you feel that as emotion." If you're getting stressed, mad, or tired over and over again, and you're not "paying back" the expenditure via eating healthy, exercising, or sleeping, then that deficit transforms into an illness, she says. This is a fascinating episode. (Link available to premium members.)
Tope Awotona on building resilience: When Tope Awotona was growing up, his dad was his hero. And then when he was 12 years old, one moment turned his entire life upside down. Awotona watched his dad die in a carjacking. "I lost a lot of weight, I didn't have an appetite, and I became an insomniac," he says. Here's how he learned to cope with trauma, moved to the United States, and ultimately, founded Calendly, a scheduling service on track to make about $60 million this year. (Link available to premium members.)
Tom Brady on his new identity: Legendary quarterback Tom Brady has thrived thanks to a chip on his shoulder he's had for as long as he can remember. Over the years, he's spent time constantly bettering himself personally and professionally. "Progress over perfection," Brady says. In this podcast, he delves deep and shares why he chose to leave the Patriots and start all over again. (Link available to premium members.)
VIDEOS TO SEE.
The shady business behind opioids: This documentary takes an inside look at John Kapoor, the founder of Insys Therapeutics, who was sentenced to 66 months in prison for orchestrating a scheme to bribe practitioners to prescribe a fetanyl-based pain medication — often when medically unnecessary. The drug is a painkiller 50 times stronger than heroin and has been linked to hundreds of deaths. Here's why some Wall Street investors chose to turn a blind eye. (Link available to premium members.)
Ruth Porat on navigating the COVID-19 crisis: Alphabet CFO Ruth Porat has had a remarkable life and career. She has survived cancer twice, shattered ceilings on Wall Street, advised the U.S. Treasury Department during the financial crisis, and made a transition to working in tech. Here's what we can learn about navigating crisis from Porat's many experiences leading a team through hard times. (Link available to premium members.)
Cheryl Strayed on how rock bottom saved her life: The first time that author Cheryl Strayed tried heroin, she thought she had found "the cure" she had been looking for. "It provided the thing I was seeking, which was a sense of relief," she says. "It made me feel like I was OK even though my mom was dead. It wasn't a cure at all; it just spun me further into despair and desperation." In this talk, Strayed reflects on how her rock bottom moment transformed her life. (Link available to premium members.)
---
Members receive the best longform article, audio, and video recommendations every Sunday. Join the club by signing up below: