The Profile: The elite soldiers rescuing Navy SEALS & the TikTok stars living in a content house
Good morning, friends!
Let's start with a thought experiment. Think about all the people you pass by on the way to work each day. The person working at the front desk in your apartment building. The security guard at your office. The custodian you see bright and early every morning. 
Do you know their names? Do you say hi? Do you ask them questions? Or do you rush by, too busy to even acknowledge they're there?
Most of us go through the day as if the world revolves around us, our jobs, and our problems. We're the main act; everyone else just plays a supporting role.
That's the underlying premise of artist Mario Moore's new art exhibition at Princeton University. In a series of large-scale paintings called, "The Work of Several Lifetimes," Moore features 10 of the Ivy League's blue-collar workers. The subjects of his paintings include campus employees who work in security, facilities, dining, and grounds maintenance.
Through his striking portraits, Moore aims to demonstrate that these individuals lead rich, complex lives beyond their day-to-day jobs where the Princeton community typically sees them. I called Moore to ask him about the inspiration for the exhibit, his storytelling methods, and the future of creativity. (Photos below are courtesy of Mario Moore Studio.)
You said you wanted your paintings to showcase blue-collar workers in positions of power. Why was that important to you?
MOORE: It's about how we look at certain positions in the hierarchies of America. What do we consider an important job? A lot of times when you go into an art museum and you pass by the security guard, you don't really ask them any questions except maybe, "How do I get to the bathroom?" It's about realizing how we view those positions and the people who hold them. In considering that, I wanted to see if we could change the conversation and see them differently.
The thing that was really important to me in painting black people who have blue-collar jobs at an elite, majority-white institution like Princeton was that I didn't want to show them serving anyone. That's why there's no one else in the painting but them. They're not in the background, they're in the foreground.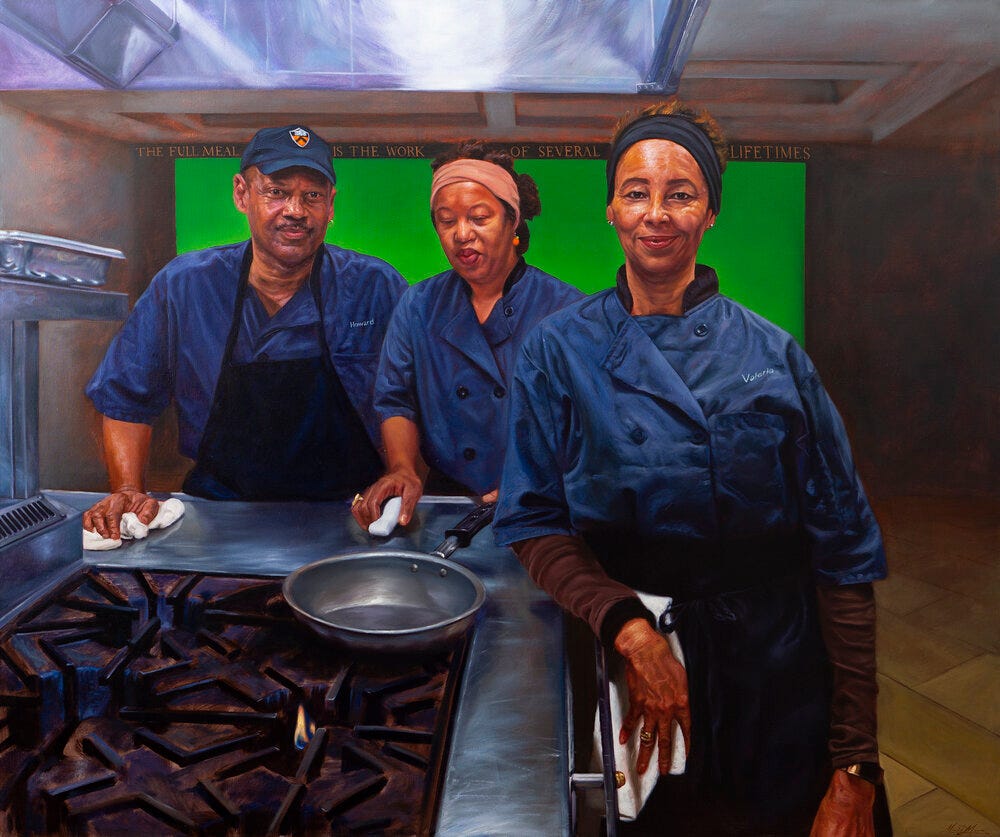 Tell me a little bit about what goes into telling a story through an array of portraits that all tie together. What is your creative process like?
Ideas come to me if I'm reading something, doing research, or just living life. From there, I'll usually do a sketch. And then I'll find people to pose for me — usually friends or people who are really close to me. 
For the Princeton project, I had to change my entire process. I was walking up to people I didn't know and telling them about what I wanted to do. I first introduced myself and saw if they had 30 minutes where we could just sit and talk. I told them about my life, and in turn, they told me about themselves. And then together, we came up with an idea of how they wanted to be represented and seen. The conversations were really organic, and it was about sharing experiences so we would both feel comfortable. 
You do sketches from life. What are some of the specific elements you need to capture the essence of a person in a painting?
It's definitely about facial expressions, but it's also about empathy. That's why that initial conversation is so important. 
Throughout art history, people talk about the death of paintings after the invention of photography. But there are so many things that paintings can capture that photographs can't — there's painting techniques, texture, certain feelings you can evoke from the actual materials that can't be obtained from photography. At a distance, a painting looks hyper-realistic. Up close, it turns into this world of various textures and gobs of paint.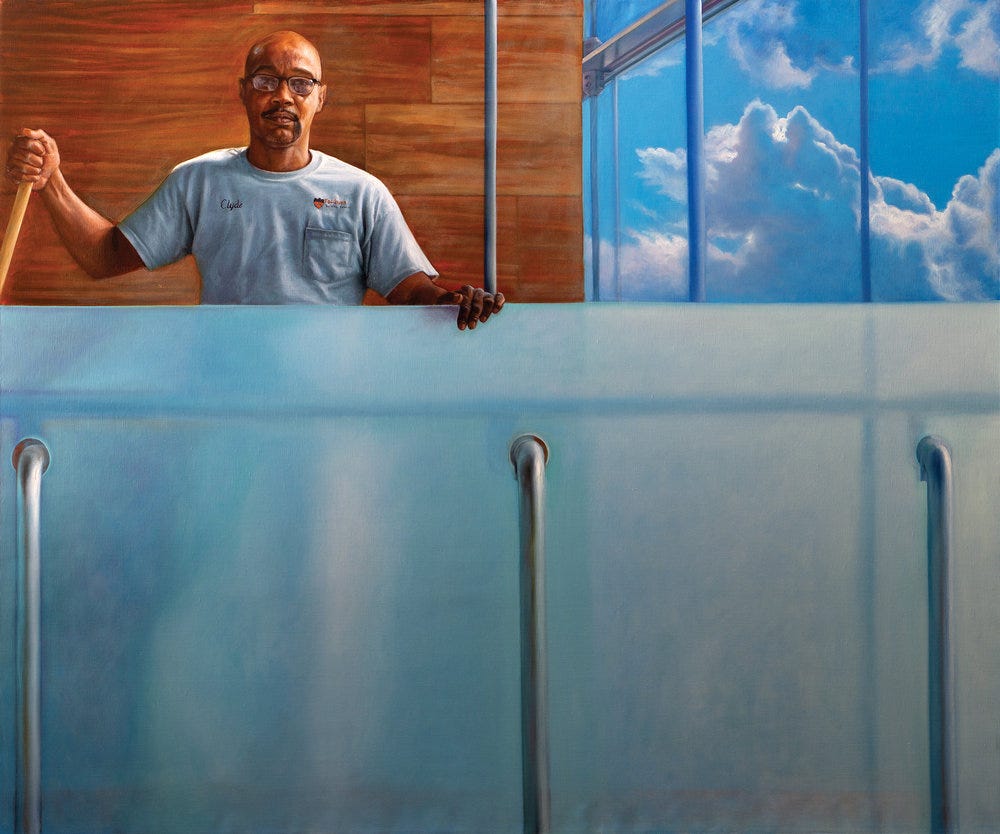 What do you want the viewer to feel after seeing your work?
If I was to answer that question myself, then what's the use of having a viewer? Art, for me, is a conversation. I think the person that's standing in front of the work feels the answer that's true to them. That's why I like the idea that my paintings can create this space for someone to enter so they feel like they're part of the work.
One thing I noticed about your paintings is that the subject is almost always looking directly at the viewer. My gaze immediately went to the subject's eyes first. Is there a reason for this effect?
Historically, women and people of color are often seen in the background of paintings. And when it comes to women, you'll find that they're typically diverting their gaze. That creates a sense of voyeurism — the viewer of the painting can look at this naked woman without her paying attention. It creates this, "I'm here for your pleasure" type of thing. I wanted to make you aware that they know you're looking at them. So they're no longer passive in the work — they become active.
Check out more of Mario's work here.
---
PROFILES.
— The elite soldiers rescuing Navy SEALS [**HIGHLY RECOMMEND**]
— The TikTok stars living in a content house
— New York's football titan
— The Rikers Island baristas
— The mad scientist who hunts hackers
— The legend of Notre Dame
— The secret bank behind the fintech boom
— The daredevil staring down middle age
---
👉 If you enjoy reading profiles of the most interesting people and companies, tweet to tell others about it:
---
PEOPLE TO KNOW.
The elite soldiers rescuing Navy SEALS: Who arrives when Navy SEALS need to dial 9-1-1? Dubbed the military's "guardian angels," there are elite Special Operations soldiers whose name few know. Their missions entail rescuing personnel caught in ambushes, injured in IED explosions, or trapped behind enemy lines. These elite saviors are trained paramedics, paratroopers, and combat divers who can jump from planes and perform surgery aboard helicopters. This story follows one such airman, and the mission of a lifetime. (Esquire)
"A pint of sweat will save a gallon of blood."
The TikTok stars living in a content house: If you read this article, prepare to feel old. Here's my best explanation: Nineteen TikTok influencers with millions of followers have decided to move in together in a house in Los Angeles to … make content full-time. Dubbed the "Hype House," the physical location of this new content creator collective has a palatial backyard, a pool and enormous kitchen, dining and living quarters. Hype House is also nearly without furniture, which makes shooting videos easier. This one is a must-read. (The New York Times)
"It's 24/7 here. Last night we posted at 2 a.m. There's probably 100 TikToks made here per day. At minimum." 
New York's football titan: Eli Manning, who just turned 39, has spent all 16 of his professional seasons with the New York Giants, the team that traded for him during the 2004 NFL draft. At the time, everybody was worried about Eli. Everybody except Eli. "I never doubted myself," he would say. "I never lost confidence. I love being in New York. ... I knew it was the right place. It just takes time." Here's how Manning triumphed in the only place he ever wanted to be. (ESPN)
"That right there is the classiest, most dependable sports figure to ever play in the tri-state area."
The Rikers Island baristas: Rikers Island, one of the nation's most notorious jails, is teaching prisoners to make coffee. Twice daily, a coffee shop pops up inside the staff lounge where inmates participate in a barista training program. Experts say that a job — even one at Starbucks that pays $10 to $15 an hour — can help end the cycle of crime and recidivism. Here's how teaching prison inmates to make lattes could give them a chance at a better future. (The New York Times)
"We come in and put on our uniforms and we're focused, you leave your feelings at the door and you come in and you do your job." 
The mad scientist who hunts hackers: Thirty years ago, Cliff Stoll published The Cuckoo's Egg, a book about his cat-and-mouse game with a Soviet KGB-sponsored hacker. Today, the internet is a far darker place—and Stoll has become a cybersecurity icon. No one is more surprised at the book's continued success than 69-year-old Stoll himself. (Wired)
"You can see in the book almost everything you need to do in an incident. The mindset, the thoroughness, the commitment to it. It's all there."
The legend of Notre Dame: "Rudy," the 1993 biographical sports film, has evolved into a pop culture pillar that refuses to go away — just like its namesake Daniel Eugene Ruettiger, who is better known as "Rudy." This profile reveals that the story in the movie is merely one chapter of a much denser life that is equal parts Walter Mitty and Forrest Gump. Here's what happened to the real-life Rudy 25 years later. (USA Today)
"You find yourself wanting to believe every story Rudy tells, even if those stories seem too good to be true."
COMPANIES TO WATCH.
The secret bank behind the fintech boom: Cross River, a tiny FDIC-insured bank, is not a typical community bank. There are no tellers here, or ATMs or safe deposit boxes. It is underwriting loans at a rate of more than $1 billion a month for fintechs like Upgrade, Best Egg and LendingUSA, holding 10% to 20% of each loan it issues. Is this the banking model of the future or will it end in disaster? (Forbes)
"The talk about a recession or a credit cycle that's going to start going the other way is much ado about nothing."
THROWBACK.
The daredevil staring down middle age: As one of the world's most accomplished athletes, Will Gadd has a pretty sweet gig. He dreams up adventures, pitches them to one of his sponsors, and then gets on a plane. He's held world records and titles in rock climbing, paragliding, and kayaking. In 2015, he became the first person to ice climb Niagara Falls. Oh, and he's 52, which is considered ancient by elite-athlete standards. Here's the mindset he uses to compete against athletes more than half his age. (The Walrus)
"Showing up is the easy part. He's already drawn a mental map of all the ways there are to die."
---
If you enjoyed this newsletter, click the button below to sign up for a free subscription: