The Profile: The billionaires behind America's predator drones & Twitter's favorite politician
Good morning, friends.
For Christmas, my mom gave me a book titled, Life Stories. It's a compilation of The New Yorker's greatest longform profiles.
The first line of the book reads, "One of art's purest challenges is to translate a human being into words." That sentence has been on my mind ever since I read it. It reinforces the idea that none of us are simple. Everyone wakes up with their own challenges, aspirations, worries, beliefs, and passions.
There are layers on layers to a human being. And to think that you could deconstruct someone's essence into 5,000 words is naive, and frankly, silly. But there are some profiles that capture the complexities of that elusive je ne sais quois in a way no one has been able to before. 
On Wednesday, I asked people about the best longform profile on a person that they'd ever read. Several of the responses mentioned the 2016 ESPN profile on Tiger Woods. I decided to give it a read. And oh boy.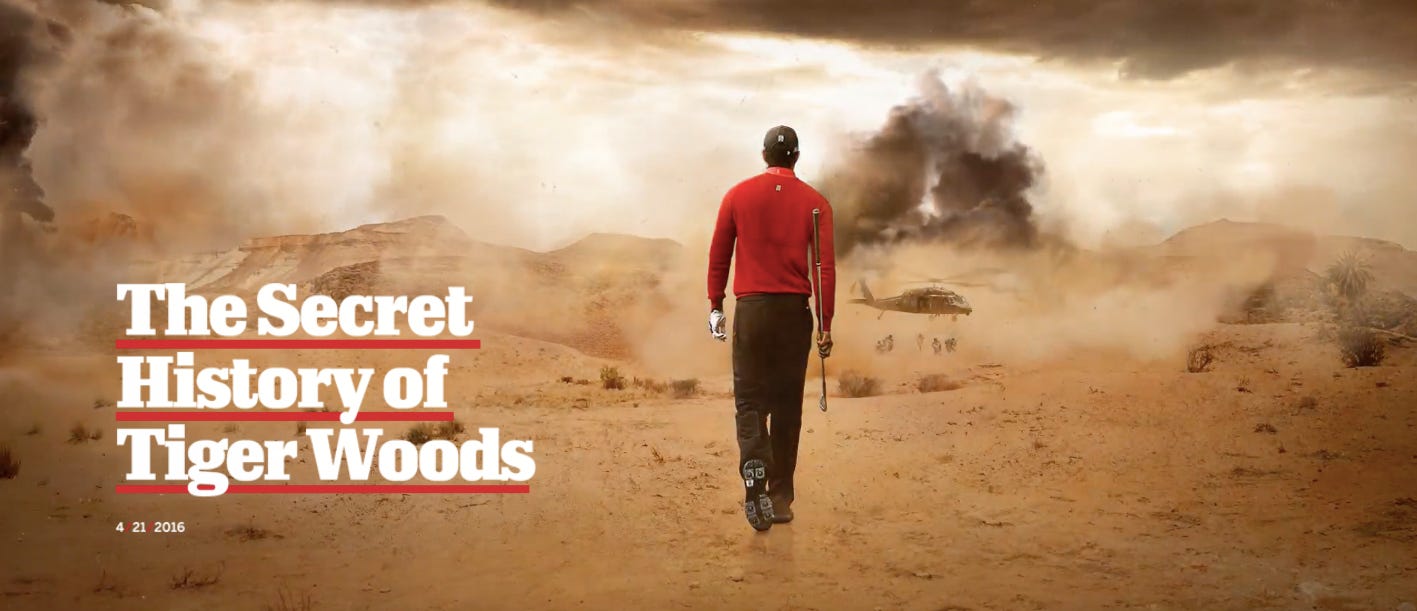 Let me preface this by saying that it's about Tiger Woods, but it's not really about Tiger Woods. It's about anyone who has ever experienced profound loss, grief, and inexplicable loneliness. 
In the 10 years since his father died, Tiger lost his greatness at golf, while becoming obsessed with the military and indulging in a dozen or more affairs — both reflections of his dad Earl. All kids, the story says, whether they love or hate their fathers, want to shake free of the past and overcome any inherited weakness. Tiger's father seemed to evoke conflicting emotions: The best and worst things that have happened in his life happened because of Earl.
Tiger grew up without any siblings or many friends and spent his childhood with his father, either on the golf course or hitting balls into a net in the garage. They often butted heads, but their biggest, most serious fight centered around Earl's love for women. Tiger hated that his dad cheated on his mom. Yet somehow, Tiger's life unraveled in a way much like his father's, and he found himself repeating the same mistakes.
We never see the past coming up behind because shaping the future takes so much effort. That's one of those lessons everyone must learn for themselves, including Tiger Woods. He juggled a harem of women at once, looking for something he couldn't find, while he made more and more time for his obsession with the military, and he either ignored or did not notice the repeating patterns from Earl's life. "Mirror, mirror on the wall, we grow up like our daddy after all," says Paul Fregia, first director of the Tiger Woods Foundation. "In some respects, he became what he loathed about his father." 
And that's the thing — the past always sneaks up on us when we least expect it. We unknowingly pick up our parents' habits, fall into old patterns, and get nostalgic about how things used to be. 
The thing that struck me about the profile is that so many people expected Tiger to act a certain way because of his status. But he almost never behaved in accordance with social norms, and that made him, well, "a weird f---ing guy," as one Navy SEAL put it.
This is a remarkable story of early success, a meteoric rise, a catastrophic fall, and an uncertain future. But it's mostly a reminder that humans are complex creatures, and the unpredictable forces of life can bring anyone to their knees.
PS: I'm making a cool announcement next weekend. Make sure you tune in :) 
PROFILES.
— The billionaires behind America's predator drones
— Twitter's favorite politician
— The cowboy-DJ-mogul-dad
— TV's beloved grouch
— Hollywood's new breakout star
— The lone restaurant unicorn
— The social media influencer launchpad
— The Middle East's shadow commander
---
👉 If you enjoy reading profiles of the most interesting people and companies, tweet to tell others about it:
---
PEOPLE TO KNOW.
The billionaires behind America's predator drones: Neal Blue and his brother Linden introduced "the Predator" drone 25 years ago. A Predator was one of the first U.S. aircraft in Afghanistan after 9/11. Since then, the Predator has evolved through deployments in Iraq, Pakistan, Somalia and Yemen. Now loaded with cameras, communications gear and air-to-ground Hellfire missiles, it surveils, tracks and kills. Obama authorized more than 500 drone strikes. So far, Trump has signed off on at least 259. Here's a look at the system which is considered to be the most important new military technology.
"[Predator] is not stealth. It's not fast, and it's not cheap."
Twitter's favorite politician: Alexandria Ocasio-Cortez, the 30-year-old freshman member of Congress, was recently ranked the fourth-most-tweeted-about politician in the world, beating out every Democrat running for president. She's already got a comic-book series about her, a young-adult biography of her, a wall calendar of her, a collection of essays about her, and even a Christmas sweater with her face on it. "It's weird," she says. "Because I know I am also one of the most hated people in America." No matter how you feel about AOC, this is a must-read.
"What is it like to show up to Congress with a beginner's mind? You just fundamentally do things differently."
The cowboy-DJ-mogul-dad: Name a spring-break party or an international multi-day festival, or any version of Coachella in any country, and Diplo has performed there. But the DJ is in his 40s now. He's a dad. He's realizing that what he says in public can make him seem like more of an asshole than he actually is. Even if you don't know or don't care who Diplo is, this profile explores the inability to escape your digital past, what it takes to reinvent yourself, and the challenges of fatherhood.
"Persevere in your ugliness. It will just eventually become beautiful, I think."
TV's beloved grouch: Larry David is a creature of routine, verging on the compulsive; he must make the trip into his office every day, even if only for a brief visit. He dislikes travel, eats healthy, and claims to be something of a hypochondriac. This profile explores the question: Is the world's most infamously neurotic man actually its most self-actualized?
"I think most people think that I'm miserable. Or that I'm a very disgruntled person. But I'm not. I have a very good disposition."
Hollywood's new breakout star: At 24 years old, Florence Pugh has been working as an actor for the last seven years. Last year, she starred in Fighting With My Family, Midsommar, and, most notably, in Greta Gerwig's adaptation of Little Women. This year she'll play Yelena, Scarlett Johansson's athletic sidekick, in the Marvel movie Black Widow. All of this has made Pugh a Hollywood performer of wide-ranging, unconventional power — one that knows exactly what she wants.
"They're actually making a reason for women to talk in films now. When a woman speaks, she's going to have something to say."
COMPANIES TO WATCH.
The lone restaurant unicorn: Salad chain Sweetgreen has raised $350 million in private capital, bringing its valuation to $1.6 billion, making it the only restaurant "unicorn" company. Now, Sweetgreen is testing a new strategy that involves tablet-wielding ambassadors, ghost kitchens, and "virtual hot bars." Here's how it plans to become something bigger — much, much bigger — than a boutique urban fast casual salad chain.
"How do we create a food that's our Tesla Model 3?"
The social media influencer launchpad: The Bachelor, ABC's long-running series, famously blocks internet access on its set. Yet ironically enough, its contestants go on to find second careers as social media influencers promoting a wide range of lifestyle products. This is a fascinating look at how the Bachelor universe became an influencer breeding ground. 
"You're telling me that I had to hold a box open and post a picture on Instagram and I'm going to get $250 from that? That was the most incredible thing I'd ever heard."
THROWBACK.
The Middle East's shadow commander: Qassem Suleimani took command of the Quds Force more than 20 years ago. In that time he reshaped the Middle East in Iran's favor, working as a power broker and as a military force: assassinating rivals, arming allies, and directing a network of militant groups that killed hundreds of Americans in Iraq. This 2013 profile explores how Suleimani remained mostly invisible to the outside world, even as he ran agents and directed operations all over it.
"Suleimani is the single most powerful operative in the Middle East today, and no one's ever heard of him."
---
Check out the Profile archives here:
---
If you enjoyed this newsletter, click the button below to sign up for a free subscription: