Discover more from The Profile
The Profile features the best long-form stories on people and companies in business, tech, sports, entertainment, and more.
The Profile: Robinhood's billionaire founders & TikTok's secret weapon
"Things aren't scary. People get scared."
These days, people love to make small talk starting with the following: "Man, 2020 has been a really shitty year." 
While I understand the sentiment, I can't bring myself to nod in full agreement. This year has been absolutely devastating for a myriad of reasons, but it has also had a few bright spots. I got married, left my job, started a business, and moved to a new apartment. 
When I was younger, I would let one awful event ruin my day, week, or even month. Every time something good happened, the awful thing I worried about would loom over me like a perpetual dark cloud. One of the biggest lessons I've learned this year is that good and bad can co-exist. When something's bad, it's not all bad, and vice versa.
My birthday is tomorrow, so I wanted to reflect on my 28th year of life and share some practical nuggets that I've found useful.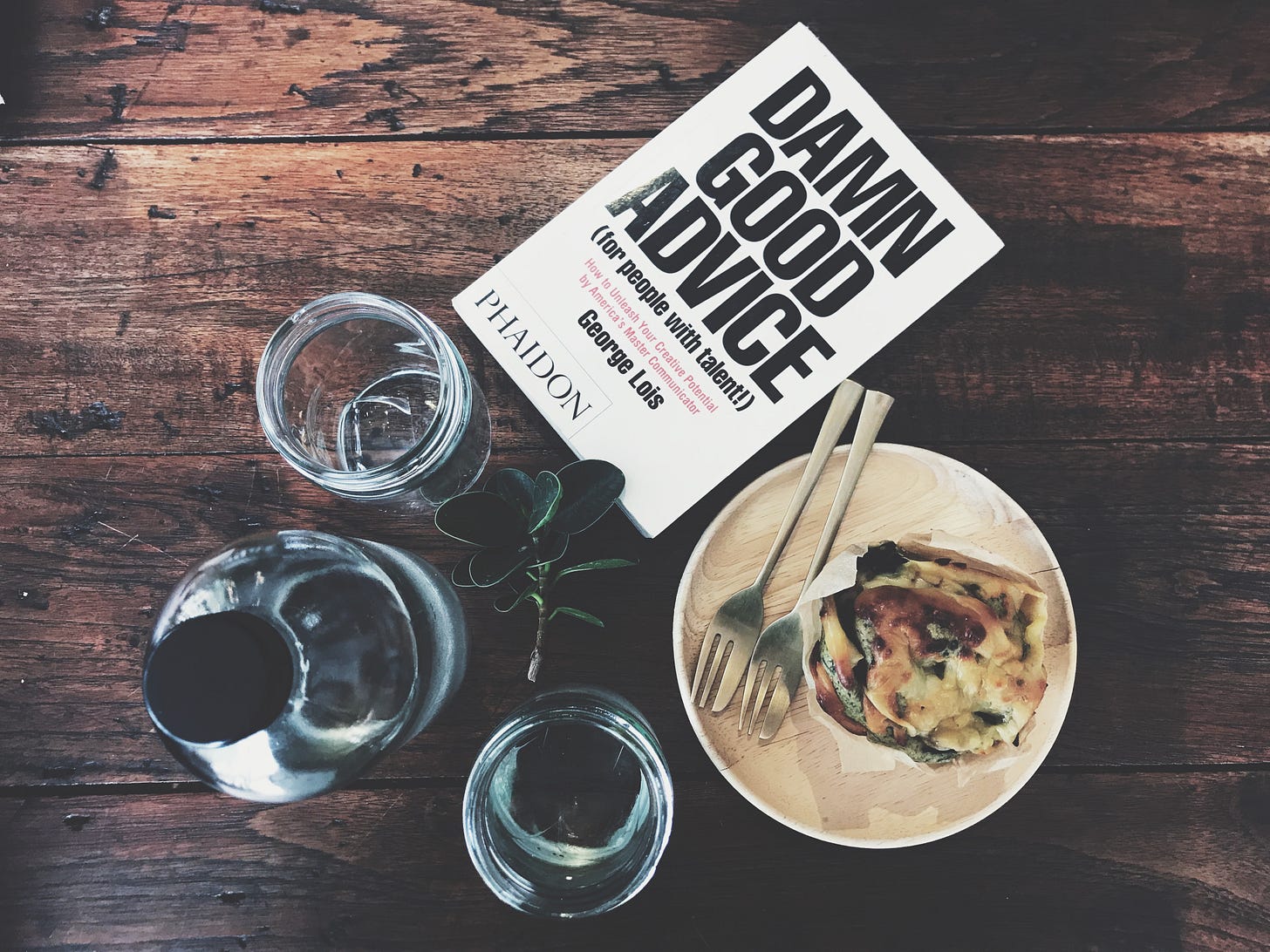 1. The quality of your work will eventually catch up to your ambition.
I've been working on The Profile for three years. It's come a long way since then. The reason it has gotten better is because I didn't give up on it — even when it was bad.
Ira Glass says that everybody who does interesting, creative work went through years where they had really good taste and could tell their product wasn't as good as they wanted it to be. It fell short. And that's exactly when most people quit.
It took Glass 10 years of podcasts for him to feel like his taste caught up to his ambition. The only way to close the gap between taste and skill? Doing the work week after week, day after day. "It is only by going through a volume of work that you're going to catch up and close that gap," he says.
2. Find ways to fall into intellectual rabbit holes.
When I sit down to write, I typically draw on my experiences for ideas. But during quarantine, those real-life experiences have dwindled. So I've had to learn how to create an environment that facilitates falling into rabbit holes.
The first way I do that is by pestering interesting people to have conversations with me. The second is to go on a walk outside and actively observe my surroundings. And finally, I sometimes just take a book from my bookshelf, open it to a random page and start reading. Ideas are all around us … we just need to notice them.
3. Take mental breaks throughout the day.
After a long period of staring at the screen, my mind starts screaming. That's when I know I need to take a break. For me, there are several activities that soothe me, and I use them to break up my day in three chunks.
In the morning, I do 10 to 20 minutes of yoga. In the afternoon, I exercise for about 30 minutes. And in the evening, I take a walk with Anthony for about 45 minutes to an hour. All three things are physical because they get my blood flowing, allowing me to step away from technology and let my mind wander. This has been the single-best, most-rewarding change I've made in the last year.
4. Chase what you don't know.
It's so damn easy to label ourselves a certain type of person. For a long time, I was a "journalist." Suddenly, I'm an entrepreneur! Who knows what I'll be five years from now? The point is not to let your identity become stagnant.
Actor Willem Dafoe, who has played a Spider-Man villain, Vincent van Gogh and Jesus, says that so much of what we do is predicated on an idea of ourselves that we're trying to protect. It's part of the reason he enjoys playing such a range of characters. He's always chasing after what he doesn't know. "Do things that don't let you decide definitively who you are and the way things are," he says.
5. Be interesting, not perfect.
I used to optimize for perfection. Now I optimize for being interesting. Think about the favorite people in your life. Do you care that their hair is perfectly combed? Or do you not even notice that because you're so captivated by their brain?
Whether it's art, movies, or books, people talk more about the flawed things that get stuck in their heads than they do the obvious, perfect things. Malcolm Gladwell says, "You want an aftertaste, and that comes from not everything being perfectly blended together. The question is: What is interesting? That's what has to drive any creative act."
6. Competence is the antidote to fear.
I used to be absolutely terrified of public speaking. At the thought of it, I'd start nervously sweating. But here's the thing: Things aren't scary. People get scared.
I learned this from astronaut Chris Hadfield. He uses the following example: When you first learned how to ride a bike, you were fearful because you could crash and hurt yourself. Then, as you got better and more confident in your skills, it became silly to be afraid of a bike. Yet the bike itself didn't change — it remained just as dangerous as it always was. You are the one who changed. Competence breeds confidence.
7. Your choices belong only to you and no one else.
One of my biggest worries before I left my job at Fortune was: "What if I disappoint someone?" When I think about this question now, I am amazed at the self-centered assumption it implies. Who — aside from my incredibly supportive family — cares so much about my life choices that they would be …. disappointed?
The brutal truth is that we're all busy navigating our own lives to have enough time to be disappointed in other people's decisions. I've learned to normalize my life. Do whatever makes you happy, and stop letting other people's misinformed judgements dictate your day-to-day. 
8. Love is not an emotion; it's a skill.
Everything in life — yes, even love — is a skill. When I asked couples for their best marriage advice, the one thing that kept coming up is that they understood that a loving partnership is a constant work in progress, and there's always room for improvement.
One reader told me, "It has to be worked on; sharpened regularly. Much like any other craft, the time that goes into keeping it fresh and vibrant must be respected. And like all important skills, it must be used."
9. Life is about good people and good stories.
Because we've all been in quarantine for months now, I've become much more intentional about the people I want to spend time with. Although my circle of friends has gotten even smaller, it's grown exponentially in terms of amazing conversations and unforgettable memories.
As Shonda Rhimes put it: "I now work to see people, not as I'd rewrite them, but as they have written themselves. I see them for who they are. And for who I am with them."
10. No matter what, always bet on yourself.
One of the more mind-blowing things I've realized in the last year is that no job, no person, no amount of money will ever fulfill me if my self-worth is tied to something external.
I've written about this before, but it's incredibly liberating to have your identity tied to your own name. The best thing I did is start The Profile in 2017 because it gave me another identity — one that allowed me to be 100% myself.
11. Get proximate to suffering.
After everything that's happened in 2020, it's become crystal clear that many of us live in a bubble. To better understand other perspectives, we've got to get curious and break out of our own narrow views of the world. Visit a shelter, volunteer at a food bank, or help someone going through a tough time.
Here's what Bryan Stevenson taught me: "We must get proximate to suffering and understand the nuanced experiences of those who suffer from and experience inequality. If you are willing to get closer to people who are suffering, you will find the power to change the world."
---
THE DOSSIER: On Wednesday, premium members received The Profile Dossier, a comprehensive deep-dive on a prominent individual. It featured legendary rock climber Tommy Caldwell. He's been held hostage, learned to rock climb with a missing index finger, and scaled El Capitan's Dawn Wall. Become a premium member and read it here.
🎉 THE PROFILE REFERRAL PROGRAM 🎉: I'm introducing The Profile referral program today! When you refer friends, you improve their content diet and you could win a premium subscription, join an invite-only chat, and have a 30-minute virtual coffee with me. Click here for your personalized referral link. 
---
PROFILES.
— Robinhood's billionaire founders[**HIGHLY RECOMMEND**]
— The NBA's most intriguing prospect
— TikTok's secret weapon
— The IT guy racing to restore voting rights
— The renegade priest helping the undocumented
— The founder who helped wreck the news business
— New York's most virulent opponent of police reform
— The developers creating virtual worlds
PEOPLE TO KNOW.
Robinhood's billionaire founders: As the global economy collapsed under the weight of the coronavirus pandemic, millions of novices began trading via Robinhood, the discount stock brokerage app. Co-founders Baiju Bhatt and Vladimir Tenev have continued to promote a lofty mission of "democratizing finance" with zero-commission trades. But since its inception, Robinhood was designed to profit by selling its customers' trading data to the very sharks on Wall Street who have spent decades—and made billions—outmaneuvering investors. Here's the inside story. (Forbes)
"Robinhood has sold the world a story of helping the little guy that is the opposite of its actual business model."
The NBA's most intriguing prospect: LaMelo Ball is the most famous player in the 2020 NBA draft and the most famous mystery in basketball. Most people know him through his boisterous father and two older, basketball-playing brothers. But still, LaMelo remains mostly a concept — someone famous for being famous. This profile answers the question: Who is the real LaMelo Ball? (ESPN)
"I feel like I already know about myself. Pretty much my message is, if you believe in yourself, you can do whatever you want."
TikTok's secret weapon: TikTok's reigning queen doesn't lip-synch, breakdance, or do funny impersonations. Rather, she is in large part credited for helping accelerate the app's meteoric growth. Vanessa Pappas, a former YouTube executive, is now TikTok's U.S. general manager. Her job is to lead the popular — and controversial — video app into the future amid national security concerns, acquisition rumors, and a potential presidential ban. (Marie Claire) 
"I think about TikTok as being this home for emerging creators that really celebrates diversity and creativity."
The IT guy racing to restore voting rights: During the day, Steve Tingley-Hock is an IT guy who toils in the trenches of database management, working the credit card data bank of American Express for years. In his off hours, his hobby is to scrutinize state voter files. Deploying several basic data query techniques, he identified thousands of voters mistakenly headed for ejection. Here's how he's working with local voting rights groups to combat wrongful voter purges. What a fascinating story. (WIRED)
"The errors that I found in Ohio, for an IT person like me, they're egregious."
The renegade priest helping the undocumented: Undocumented immigrants are excluded from federal aid programs designed to ease the financial blow of the coronavirus. In these dire times, there's one man many of them turn to: Juan Carlos Ruiz. He has delivered meals to families in need, spoken at a street demonstration in solidarity with the city's essential workers, and visited a local hospital to identify an immigrant's remains. Meet Brooklyn's "renegade priest" who does everything from human-rights advocacy to grocery delivery. (The New Yorker) 
"There is another world here, the underground life, the clandestine life."
The founder who helped wreck the news business: As the cofounder of a social media campaign called Sleeping Giants, Nandini Jammi was accidentally destroying the news industry. Her advertiser boycotts scared brands away from journalism and into shady ad tech. Ads were being directed away from the likes of Time and Der Spiegel but were finding their way to fringe sites that promoted drinking bleach to curing autism. As a result, her new aspiration is to teach marketers to think for themselves again. (WIRED)
"If the reality is the whole industry pulls away from news, then what are we left with?"
New York's most virulent opponent of police reform: Ed Mullins is the president of the Sergeants Benevolent Association, which represents nearly 5,000 officers of the NYPD. Over the past nine months alone, he has called Mayor de Blasio a liar, a disgrace, and "full of shit." In his view, police are not above the law. Rather, the law should empower police to operate however they choose, almost entirely free of oversight or consequence. (New York Magazine)
"Our membership, although diverse, is pretty solid in the sense that everybody's blue."
The romance industry pioneer getting her due: In 1980, Vivian Stephens founded the Romance Writers of America, and she was instrumental in turning romance writing into a billion-dollar market. As a black writer, she has dealt with the erasure of her contributions to the romance industry for as long as she can remember. Now, as the RWA reckons with its history of racism, will she finally get her due?
"One of the things I've learned being African American in this country is that what people don't know about frightens them, and when they get frightened, they get angry." 
The developers creating virtual worlds: When the real world becomes too much to handle, you could always escape to a new, more exciting virtual world. Roblox is an online gaming site with Lego-like characters and millions of worlds to explore. During quarantine, it's exploded in popularity with both gamers and game developers alike. People create more than 20 million new games a year for the platform — and they're making an absolute killing. (The New York Times)
"Play is the way that the human mind learns best."
---
This installment of The Profile is free for everyone. If you would like to get full access to all of the recommendations, including today's audio and video sections, sign up below.
---
AUDIO TO HEAR.
Hugh Jackman on the importance of vulnerability: Actor Hugh Jackman is one of the biggest stars on the planet. In this conversation, Jackman opens about some of the most intimate parts of his life. He discusses how he dealt when his mom departed the family when he was young, how he approaches parenthood, and why his marriage is one of his proudest achievements. (Link available to premium members.)
Brian Armstrong on the greatest risk in business: Coinbase co-founder and CEO Brian Armstrong says the greatest risk in business is not taking one. Too many entrepreneurs, he says, confuse motion with progress. At some point, you've got to stop pontificating and just execute. "Action produces information," Armstrong says. In other words, the people who win are the people willing to take risks, experiment with new iterations, and learn time and time again. (Link available to premium members.)
Apolo Ohno on mental training: Apolo Ohno is an 8-time Olympic medalist and short-track speed skating champion. The biggest lesson he's learned is that all battles are internal ones. "I became deeply engrossed in this battle against myself — my own internal insecurities, weaknesses, and mindset," he says. Here's how he used meditation and visualization to change his internal dialogue and increase his confidence level. (Link available to premium members.)
VIDEOS TO SEE.
Troy Carter's relentless determination: Talent manager Troy Carter grew up in West Philadelphia to a single mother. His dad went to prison for murder when Carter was 7 years old. But his grandmother always told him this: "You can't fall off the floor." When you start from nothing, there's nowhere to go but up. In this video, you hear Carter's origin story in detail and how he went from "the floor" to managing some of the biggest stars in the world. If you've never heard Carter's story, it's a must. (Link available to premium members.)
Pattie Sellers on the world's most powerful people: Oprah. Warren Buffett. Melinda Gates. Alex Rodriguez. Martha Stewart. Pattie Sellers has written longform profiles on them all. Sellers spent 32 years as a journalist at Fortune before co-founding her own company SellersEaston Media. In this podcast, Sellers talks about power, empathy, and the drug of success. This is one of my favorite conversations this year. (Link available to premium members.)
The wine world's biggest con man: Everyone liked Rudy Kurniawan, a friendly, down-to-earth wine collector with a passion for Burgundy. Kurniawan began buying and selling large amounts of rare wines in the early part of the 2000s. As he began attracting more attention, so did the fine wines he sold. And then it all came crashing down — Kurniawan had been selling fake wines to countless investors (including billionaire Bill Koch) for years and cheating them out of millions of dollars. After 10 years in prison, he's pending release this November.  (Link available to premium members.)
---
👉 If you enjoy The Profile, please help spread the word by referring friends & winning cool prizes!