Discover more from The Profile
The Profile features the best long-form stories on people and companies in business, tech, sports, entertainment, and more.
The Profile Dossier: Josh Waitzkin, the Man Who Can Master Any Craft
"Great ones are willing to get burned time and again as they sharpen their swords in the fire."
Could Josh Waitzkin be the most interesting person alive?
I recently learned about him after reading an edition of George Mack's newsletter. Mack writes, "Josh is 46, but he's lived the life of a 460-year-old."
I knew I had to look further into this guy.
What I found is astonishing.
Waitzkin has made the art of learning his entire career. Mastering a new craft is his craft, his muse, his raison d'etre. He's done this with several domains, including chess (became an international master at age 16), Tai Chi (a two-time world champion), and Jiu-Jitsu (a black belt).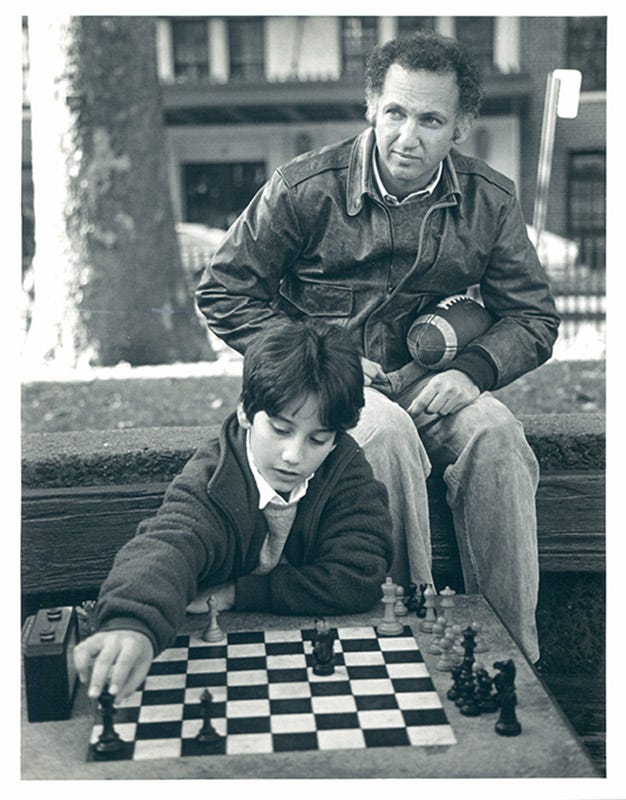 Today, he's mastering a new skill: foil surfing, the sport of riding a surfboard which has a hydrofoil attached to the board instead of a fin. After spending a week with surfing legend Laird Hamilton, Waitzkin began experimenting with tow-in foiling.
"When you learn a technique, you're learning one thing. When you learn a principle that embodies a technique, you might be learning a thousand things. And when you internalize a principle that crosses the boundaries between arts, you are learning about life itself," Waitzkin said. "This is part of the reason why I think my approach to surfing and foiling has looked so strange to lifetime surfers because I'm not approaching it locally. I'm working on internalizing certain core concepts, universal principles, and I'm integrating the technical landscape in that context."
Waitzkin is remarkable in that he's willing to start over time and time again. Most people have a contrary approach — they find one domain and master it until they become a pro. Waitzkin realizes that for him, the excitement peaks during the learning process.
"I've come to realize that what I am best at is not Tai Chi, and it is not chess. What I am best at is the art of learning," he says.
What I found most fascinating about him is he refuses to get trapped by the allure of success. When he masters a new craft, he is willing to put it aside in favor of another pursuit and start from scratch. For Waitzkin, it's all about mastering the basics.
"It is rarely a mysterious technique that drives us to the top, but rather a profound mastery of what may well be a basic skill set," he says.
Here's what we can learn from Waitzkin about learning for the love of learning, becoming a high-performer, and the importance of finding your edge.
✨ The rest of this newsletter is only available for premium members of The Profile, whose support makes this work possible. If you're not already a premium member, consider upgrading your subscription below for access to the full Profile Dossier. ✨
READ.
On the art of learning: In his book, The Art of Learning, Waitzkin shares the principles of learning and performance that have propelled him to the top. He explains how to embrace defeat and make mistakes work for you. Does your opponent make you angry? Waitzkin describes how to channel emotions into creative fuel. As he explains it, obstacles are not obstacles but challenges to overcome, to spur the growth process by turning weaknesses into strengths.
LISTEN.
On the cave process: Waitzkin has a system he calls "the cave process," which is essentially disappearing from the world for three or four months where you can tap into your subconscious. But obviously, for most of us, disappearing for a prolonged period of time isn't feasible. So in this podcast, Waitzkin offers micro-ways of tapping into it. Rather than filling in the moment, he says, learn to sit in the emptiness.
WATCH.
On structuring a high-performance day: How do you structure a high-performance day? In this conversation, Waitzkin explains that designing a proactive day architecture versus a reactive one is key to having a productive day. He also says that meetings can be disastrous to deep thinking time. "I'll block out thinking time in a calendar in alignment with peak energy periods," he says.
On the importance of self-exploration: Waitzkin says he has undertaken surfing in pursuit of self-exploration. His whole life is about "studying" himself. "I think a lot of people have success, and then it becomes a rut they get stuck in," he says. "I believe in pushing my boundaries as a way of life."
On figuring out your learning style: In this Google Talk, Waitzkin explains that the key to learning better is to figure out how you learn in the first place. Yes, some people are more visual and others are more auditory, but it could even be the style of learning. For instance, I've coined something called "people-focused learning" where a person's story is at the center of any learning pursuit. "The learning process, like anything else, has shades of gray," Waitzkin says. "The most important thing is to maintain connection in your learning process with your own nuance of character."
POLINA'S TAKEAWAYS.
Live in the zone of daily discomfort: If you're a human in the world, you likely strive to avoid pain and discomfort. But to achieve true excellence, Waitzkin believes, you must embrace the pain and the discomfort that come with learning something new. He stretches himself in ways that are both physical and mental to progress toward his goal. "I've trained for many, many years at this principle of living on either side of pain: learning to turn what feels uncomfortable, learning to turn that place of mental resistance at the stretch point into something that I crave, that I love, that I enjoy," he says. Why is this important? Because success often breeds comfort which breeds complacency. Aim to do at least one uncomfortable thing per day in the pursuit of learning.
Prioritize depth over breadth: Most people know a lot of different things about a wide array of topics. But as the saying goes, they're "a jack-of-all trades, master of none." Waitzkin uses another approach — he focuses on going deep on a singular subject for a long period of time rather than learning the basics on a superficial level. "If you do something with incredible depth, you develop this feel for quality," he says. That's why the details matter, and why honing the minutiae most people overlook makes a huge difference in turning pro.
Don't let one mistake turn into a downward spiral: We know how it goes — you make one tiny mistake, and before you know it, you've plunged into a downward spiral of negative performance from which you can't recover. It could be a whole day or it could be a whole career. The spiral begins when we let one mistake turn into multiple ones because we get off balance and start getting insecure about our abilities. So how can we counteract this cycle? Waitzkin explains that your outer reality reflects your inner state, so striving for emotional sobriety is the key to success. "In every discipline, the ability to be clear headed, present, cool under fire is much of what separates the best from the mediocre," he writes. "In competition, the dynamic is often painfully transparent. If one player is serenely present while the other is being ripped apart by internal issues, the outcome is already clear." Remember, you may not have control over other people and circumstances, but you have control over your own emotional sobriety. Don't let a single mistake rock your life.
Stop waiting for the perfect conditions: Many people wait for the "perfect conditions" to start a company, write a book, or move to another city. Waiting around for the perfect conditions makes us psychologically reliant on external events. Waitzkin says it all starts in childhood. He noticed that parents would often tell their kids they couldn't go play outside because it was raining. It was "bad weather." "We're externally reliant on conditions being perfect in order to be able to go out and have a good time," Waitzkin says. So to show his son that he controls whether he has fun or excels in something, Waitzkin takes him out to play during every rain or snowstorm. "I wanted [my son] to have this internal locus of control," he says. "To not be reliant on external conditions being just so."
Master the four stages of learning: In his book, The Art of Learning, Waitzkin distinguishes between four levels of competence:
— Unconscious incompetence – "I don't know how bad I am."
— Conscious incompetence – "This sucks. I know how bad I am."
**this is when most people quit**
— Conscious competence – "I can do this if I focus."
— Unconscious competence – "I don't remember the last 10 minutes of driving my car."
To get past the second stage, Waitzkin believes you need to put your ego aside and be willing to feel embarrassed. Only then can you make progress toward learning the fundamentals and going deep on a subject. This is a really good framework to keep in mind when learning and becoming more competent.
QUOTES TO REMEMBER.
"Growth comes at the point of resistance."
"One thing I have learned as a competitor is that there is a clear distinction between what it takes to be decent, what it takes to be good, what it takes to be great, and what it takes to be among the best."
"Great ones are willing to get burned time and again as they sharpen their swords in the fire."
"The key to pursuing excellence is to embrace an organic, long-term learning process, and not to live in a shell of static, safe mediocrity. Usually, growth comes at the expense of previous comfort or safety."
"Musicians, actors, athletes, philosophers, scientists, and writers understand that brilliant creations are often born of small errors."
"In every discipline, the ability to be clearheaded, present, cool under fire is much of what separates the best from the mediocre."
---
✨ Order my new book, HIDDEN GENIUS below: