Discover more from The Profile
The Profile features the best long-form stories on people and companies in business, tech, sports, entertainment, and more.
Panera Bread Founder and Cava Investor Ron Shaich on Building an Iconic Billion-Dollar Brand
Shaich explains why ubiquity can breed contempt and what founders should consider before taking their company public.
As the founder of Au Bon Pain and Panera Bread, Ron Shaich is often credited for pioneering "fast-casual dining," a $100 billion–plus segment of the food industry.
And it all started with a cookie store.
In 1980, Shaich opened a 400-square-foot cookie store where he learned the fundamentals of running a business and fell in love with entrepreneurship.
"All I can tell you is for a kid from New Jersey who can't dance or sing, it was the most creative thing I ever did in my life. It was like live performance art. And I loved it," Shaich told The Profile. "I loved that creative process of figuring out how to get that [cookie] store open. I loved the process of running the store. I loved the process of hiring. And it set off a challenge in my life of, 'What am I going to do?'"
Shaich realized he had bigger ambitions than the cookie store, and business became an obsession. He merged with Au Bon Pain in 1981 and later opened Panera Bread, which turned into a company with 2,400 restaurants and $5 billion in revenue, outperforming both Starbucks and Chipotle.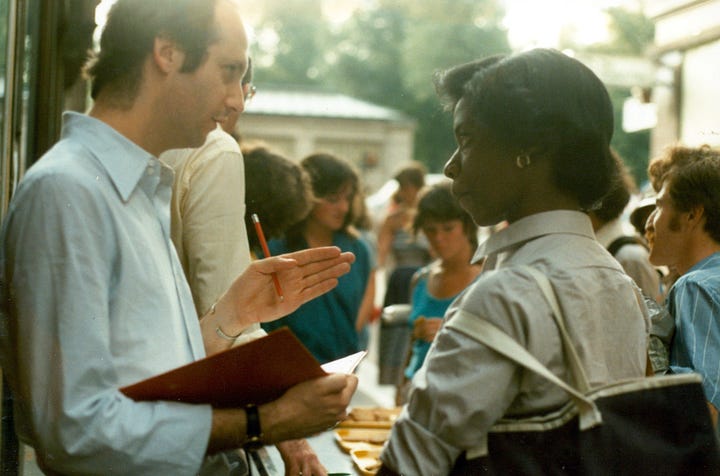 But it wasn't a straightforward path to success.
In his three-decade tenure, Shaich led the company through a number of transformations and uphill battles. The year 2015 was a particularly difficult one. Activist investors descended on Panera, executives resigned, and industry analysts doubted Shaich's vision for the future.
"It was huge pressure, and things weren't going right," Shaich says. "I can remember thinking to myself, 'It'd be just easier if I get hit by a truck.' Not that I wanted to die — it's not a suicide wish — it was the overwhelming sense of responsibility I felt to all the people who were betting on me."
In that moment, Shaich decided that he would see through the transformations he had put into motion at Panera. He invested heavily in digital operations, loyalty programs, and healthier food options.
And his bets paid off. Shaich took the company public in 1991 and sold it for a whopping $7.5 billion to JAB Holdings in 2017.
Today, Shaich is undergoing a transformation of his own — moving from entrepreneurship into the world of investing. Through his investment firm, Act III, he has taken stakes in food brands including Cava, Tatte, Life Alive, and Level99. He has also written a book, 'Know What Matters,' in which he shares the lessons he's learned after a lifetime of entrepreneurship.
In this conversation, Shaich and I discuss how to build iconic brands, why ubiquity can breed contempt, and what founders should consider before taking their company public. It is a conversation filled with practical takeaways for founders and CEOs looking to build an iconic brand.
This Q&A has been lightly edited for clarity and length.
(Below is an excerpt, but I encourage you to listen and watch to the full interview below.)
🎧 LISTEN.
🎬 WATCH.
When you were conceiving Panera, you created "a concept essence" document, which is an emotional blueprint for a company's competitive DNA. Explain how you used it to define Panera's brand.
SHAICH: A 'concept essence' document a very clear blueprint for how you're going to market. What is the theatrical production you're putting on? What are the elements of it? And how is it from the eyes of the customer?
I've run massive organizations with over 100,000 employees, and organizations in which thousands of people are working on an elements of the concept. If there isn't clarity of what we're trying to accomplish, there's a reversion to the mean.
So what a 'concept essence' document defines is, 'What are we trying to do in terms of food? What are we trying to do in terms of the attitude of that food? How does design tie into it? What do we want people to feel when they walk into our establishment? What is the human element of it? How do we want people to feel about our people, our customers? What is it we want our team members to give off? What is it in terms of the overarching aesthetic, or the voice, or the soul?
And the reality is that every brand has a personality. So this is an opportunity to define the personality that we want this to live into, and what it allows is to do it with real clarity.
Writing a 'concept essence' is all about getting the right words. If the words are clichés and they don't cut, nobody knows which direction to go. So we use the 'concept essence' as a North Star. It's about how we want to be seen — and most importantly, emotionally felt — by our target customer.
One of my favorite lines from your book is: "Conserve in a boom; build in a bust." In 2008, Panera met or exceeded its earnings targets in each quarter of the year. How on earth did that happen?
During the recession, we drove mid-single digit comps, our EBITDA was up strongly, and our stock was up strongly. I guess the root of it is very contrary in nature in how I think that if everybody's going one way, I want to challenge that and say, 'Why? Maybe there's a better path.' I don't want to get trampled by the elephants in the herd.
The industry is filled with people that are reacting to what everybody's saying today. The trick is to get above that and figure out where you're trying to get to tomorrow. And so that's the nature of a contrarian.
So in the boom days — pre-the Great Recession — everybody couldn't spend enough money. They were borrowing money, they were levering up, taking risks, chasing very expensive real estate deals. It was growth, growth, growth.
At that point, I said, 'This is crazy. Why do I want to take that kind of financial risk on? God forbid there's ever a problem. And why do I want to chase every last dollar? I want to conserve resources because I want to make sure if there's ever an opportunity, I can then move in, in an aggressive way.'
When the recession hit, frankly, I saw it as a powerful opportunity. At that point, all of my competitors were running around public companies, and their sales were declining. They were flattening out, and they were ripping cost out of the P&L. And I thought to myself, 'Wow, this is a great opportunity to build competitive advantage.' If they're ripping costs out of the P&L, the only way to do it is by diminishing the guest experience. That means longer lines, dirtier tables, less happy and more frazzled team members.
That was a point where we said, 'We're going to put more money into the guest experience, more labor into the stores.' We found that we were competitively better. What we then found was that our same-store sales went up.
The key is to understand the context. People often ask me, 'How do you respond to inflation? How do you respond to a recession? How are you going to respond to this change in the law?' My answer is typically, 'I'm not going to control those things. What I can control is my reaction, and I know that my job is to figure out a better adaptation to whatever's happening than my competitors.'
So my job is not to somehow understand or infer what the marketplace or the world is doing. It is to understand how to build a better competitive alternative, and do a better job for my guests. When that happens, the byproduct always is value creation.
At one point in your journey, though, your personal life was in shambles to the point where you were hoping that the board would oust you from the company. But even in the face of this, you say that you still went to work and found a way to motivate yourself and your team. How?
First, the way I motivated myself is rooted in responsibility. Real leadership is responsibility. And what most impacted me is the fact that I had 125,000 people counting on me, I had thousands of management personnel who I would get up in front of, and I would say, 'We're going that way.' And I sure hoped we were right because their mortgages, their kids' college educations — all the things that mattered in their lives — were counting on it.
I felt this sense of responsibility to deliver on what I said — to get us there, to get them there. And I think that the dirty little secret of leadership is nobody really knows what's going to happen. But at some point, you have to get up and help guide people.
Even when you believe you're doing the right thing, there's still the pressure of time. What I most feared is I wouldn't have enough time to do what I knew was the right thing.
Around 2015 when I was going through the fourth transformation, it was probably the largest transformation of a large public restaurant company in America. It was huge pressure, and things weren't going right. I can remember thinking to myself, 'It'd be just easier if I get hit by a truck.' Not that I wanted to die — it's not a suicide wish — it was the overwhelming sense of responsibility I felt to all the people who were betting on me.
I'm turning 70 this year, and I believe by the time you get to 60, every one of us gets kneecapped in some way. You don't get through life without real challenges and real pain. And the question is not avoiding pain, and avoiding tough things. The challenge is how you deal with them.
What does the word 'success' mean to you?
Self-respect.
Have you lived a life you respect? Have you had an impact that you respect? Have you touched people in a way in which you respect?
I just came back from my 45th business school reunion last weekend, and one of the things that that we all talked about is, 'What's your legacy?'
It's not the buildings that were built with your name on it. It's not the businesses that you built. Your legacy is the people you've touched and helped them think about things in a different way, who have then gone on and done great things in their own right.
… For more like this, make sure to sign up for The Profile here:
✨ Order my new book, HIDDEN GENIUS below: