NYC Barbershop Owner: 'New Yorkers Have Been Forced to Slow Down for Once'
Michael Haar is the owner of Haar & Co. Barbershop, a New York City-based barbershop. This is his story.

UPDATE AS OF SEPT. 1, 2020: Although Haar & Co. reopened on June 24th, it experienced an extremely slow summer. Operating at 50% capacity with PPE put an extra strain on the business, but Haar's team is seeing some traction thanks to its loyal clientele. It is operating 7 days per week with appointments available online.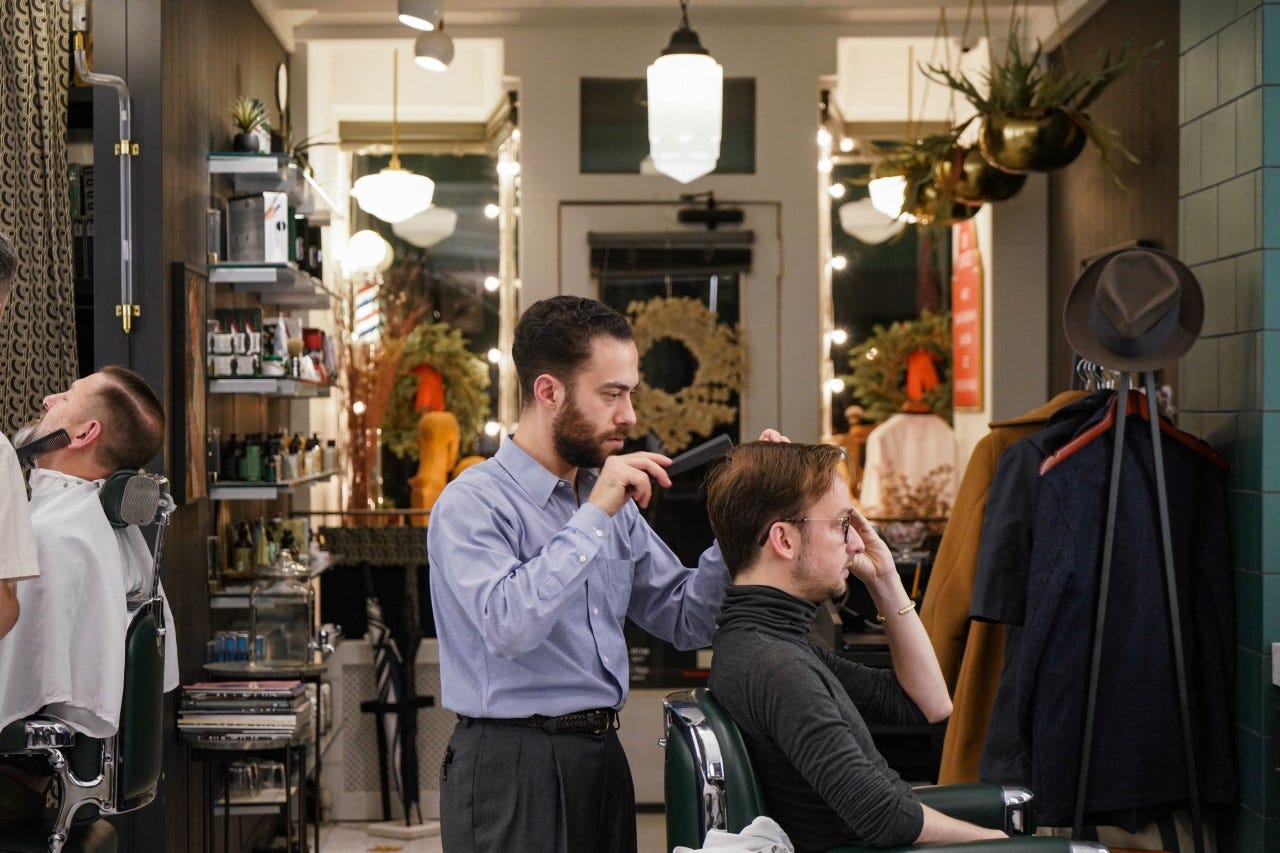 Time. The biggest difference between a barbershop in Italy and a barber shop in New York is time. The Italians take their time. 
An Italian barber once told me that he lathers up someone's face for five minutes. I said, "If I did that in New York, the customer would just rip off the cape, get up, and storm out." I mean, could you imagine? 
New York is very fast. We equate slow service with terrible service. In your average New York barbershop, you're looking at 15 minutes in the chair. In Italy, you're getting a 30-minute experience.
When I opened up my barbershop in November of 2017, I knew I wanted to provide an experience. When you come into my shop, you'll be greeted with a complementary espresso, and you'll enjoy a block of 30 minutes for a haircut or shave — but not a minute longer. I'm hyper-aware that time is precious. You can reimburse someone financially, but you can't give them their time back, so everything has to run on time.
Ironically, today, everyone has time — and lots of it. I'm trying to remember when exactly the coronavirus situation escalated. It feels like it was months ago, but can you believe it was only 15 days ago?
The whole situation is crazy and weird. I remember that when I went to barber school, my father told me, "Oh, at least you picked up something that's recession-proof." I mean, it was true and it's just so ironic now. I remember thinking last year, What would have to change in the world for the barbering business to die? Never thought it would be this.
My biggest worry is losing my staff. I have to constantly keep reminding myself: No one's working right now. It's not just you. I wish I could do more, but I feel a little powerless. I think there's a sense of guilt amongst small business owners, and it's nothing they did personally … there's just nothing we can do right now.
Everything always comes back to time. In a weird kind of way, I'm actually giving my body the time and rest it deserves. Slowing down is a foreign concept to me because I'm used to going a thousand miles an hour. Ironically enough, we, New Yorkers have been forced to slow down for once. It's a new reality for all of us.
— As told to Polina Marinova
---
The Profile's 'Faces of American Business' series continues below. Read more:
— Simone Tong, owner of Little Tong Noodle Shop
— Mike Webster, owner of Premier Indoor Golf
— Lisa Karvellas, co-founder of Cedar Lakes Estate
— Frank Bonanno, co-owner of Bonanno Concepts
— Michael Sadler, co-owner of Republic of Booza
— Jessica Rae, owner of Rae Studios
---