Discover more from The Profile
The Profile features the best long-form stories on people and companies in business, tech, sports, entertainment, and more.
Michael Sadler is the co-owner of Republic of Booza, a Brooklyn-based parlor specializing in elastic booza ice cream in a range of classic & creative flavors. This is his story.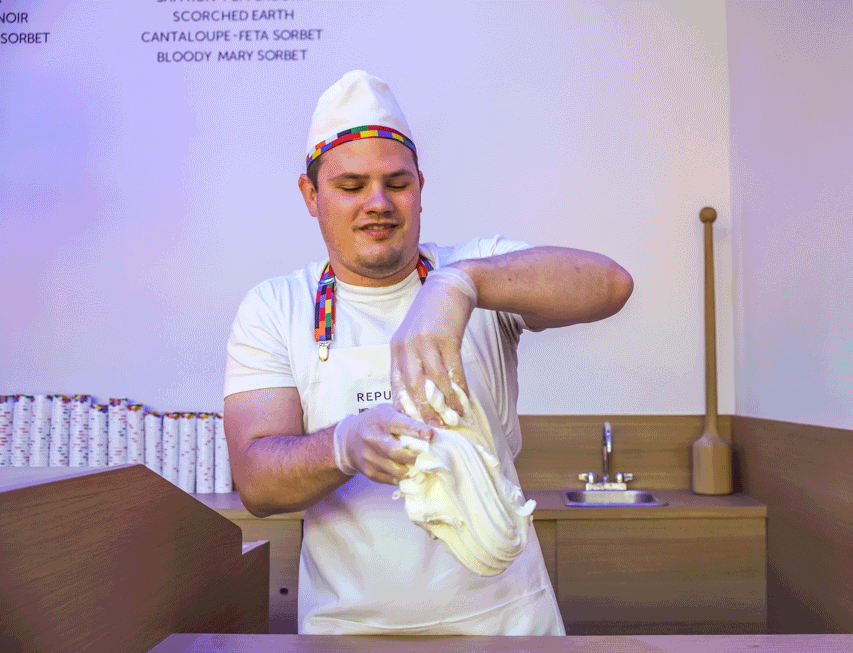 Photo credit: Noah Fecks
We're a relatively new business. We opened our flagship store in Williamsburg in the summer of 2018. The launch went better than we had hoped. We caught the attention of the media, the public, and the critics. It felt like we had accomplished our mission in making the world fall in love with booza the way that we did.
And that's right about where the glamour ends. There is so much that goes into running a business that's completely invisible to the public eye. It's not like business owners are out there publicly talking about all the stress factors and just how difficult it is. There's this pressure to portray entrepreneurship as effortless, and that's far from reality. 
As a small business owner with one store and no institutional backing, you have to do everything on an extremely tight shoestring. I often say that the entire process has made me feel that my whole life I had only tested my mental horsepower but never the bandwidth. And now the bandwidth is close to maxed out.
One of the things that I've learned as a first-time entrepreneur is that your business problems are relatively identifiable, and you usually have time to address them. And then COVID-19 hit. I've never encountered a situation — nor have I even heard of a situation — where there is a sudden shutdown like this. There hadn't ever been a single episode that blindsided us in this way, and gave us that feeling of, "Holy ... what are we going to do?" 
When the crisis in Italy began escalating, and the U.S. was getting ready to brace for something similar, I was shocked because our sales were going up week after week. Seriously — I'm talking the first and second week of March. It really wasn't until the announcement that restaurants, cafes, and bars had to close and only offer takeout or delivery that there was a huge shift. 
We were a little naive at first. We thought, "Well, ice cream isn't a dine-in experience anyway so there will still be a lot of people coming in." And the reality is that our sales dropped by 80 to 90% overnight. Literally overnight. And they remained down 80 to 90% for the next five days until the mandate from the government to completely shutter all non-essential businesses. And that was it.
Ice cream's not like a restaurant that provides a meal, which is essential. It's kind of inherently the cherry on top. Ice cream isn't exactly the kind of thing people want to order in, it's more the type of thing people would go out for. 
Our sales typically drop from September through February, and they start picking up in March. Which is now. So when you operate a seasonal business and you're at risk of losing your peak season, that has an enormous impact on the company's cash flows. It's a question of how much cash reserves are in the bank and how much you can afford to bleed each month.
This is an unprecedented crisis. This really is the first time anything like this is happening within the status quo economic system. It's clear there's going to be a cost to everybody. I think everyone has to accept that they will take a hit, but in the name of preserving the economy, the pain needs to be spread out and shared. It's not right for the businesses on the frontlines to forfeit their revenues and have to pay all their expenses. How will the government decide who should be eligible for the breaks and who shouldn't? That's a huge question we'll need to confront.
One of the ominous things is that there's literally nothing any of us could've done. When a company goes out of business, people don't really have that much empathy for the entrepreneurs because it's just assumed that they made bad business decisions. And here's what I'm learning as a first-time entrepreneur: even if no bad decisions are made, even if there is no mis-execution, even if there are no problems, an external factor like this can derail everything. Everything.
I'm still struggling to make sense of it all, but I do know one thing: It's bigger than all of us. There is nothing any of us could've done differently to avoid this situation. It's just been a very confusing and alienating period for all of us.
— As told to Polina Marinova
---
The Profile's 'Faces of American Business' series continues below. Read more:
— Mike Webster, owner of Premier Indoor Golf
— Simone Tong, owner of Little Tong Noodle Shop
— Frank Bonanno, co-owner of Bonanno Concepts
— Jessica Rae, owner of Rae Studios
---