9 Captivating Stories to Read This Father's Day
They explore complicated familial relationships, the sacrifices of parenthood, and the grief that comes with losing a father.
On the day of my college graduation, my dad gave me a letter. In it, he recounted the story of when he, my mom, and I moved to the United States from Bulgaria. When we came 20 years ago, my dad was a 33-year-old with a master's degree in chemical engineering and more than a decade of work experience.
But in the U.S, he was nobody.
In the letter, he wrote:
"I was working at Marriott, and the money I was making was not enough to cover the bills for the first few months we lived here. I begged my manager to give me extra shifts so we could pay rent. At that time, we literally had nothing. My dream was to be able to buy you something to make you happy, so you could see that the U.S. is a happy place.

"For better or worse, you remember everything we went through in those first few years, but please never forget that I've always loved you more than anything in the world."
With the letter, he enclosed a check, so I could buy something I want now that he couldn't buy me then.
I think back to that moment as a reminder that my life would look very different if it wasn't for my parents' willingness to take a massive risk, put their egos aside, and start from scratch in a brand new country.
This inspired me to compile a list of nine very different stories about dads. They explore complicated familial relationships, the sacrifices of parenthood, and the grief that comes with losing a father.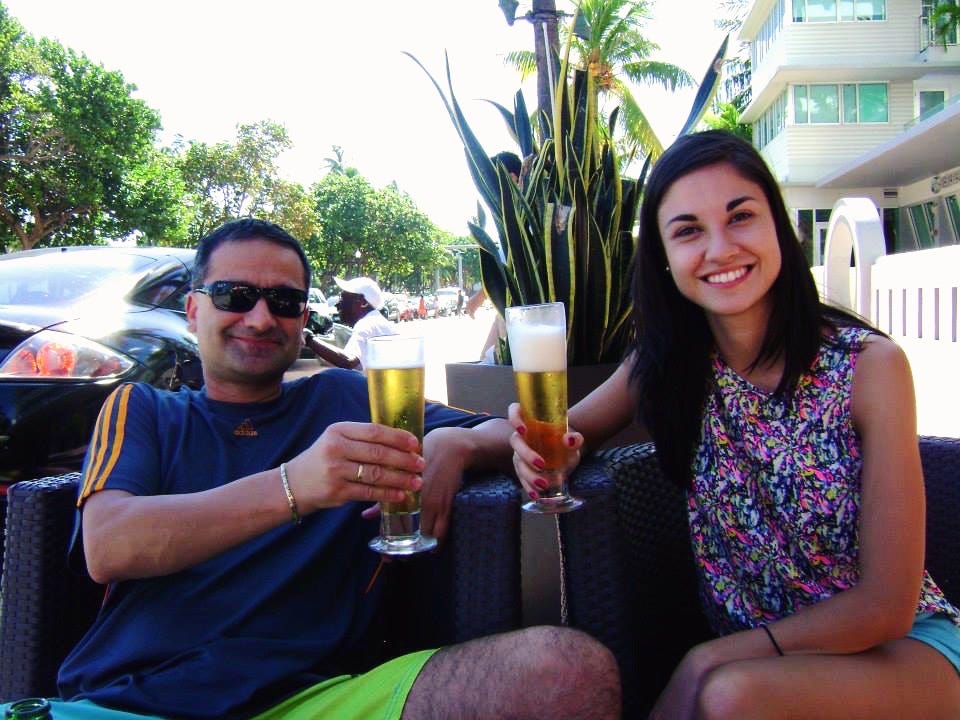 At 44 years old, Kansas City Chiefs running backs coach Deland McCullough went searching for his biological parents. What he found out will stop you in your tracks and make you realize life is just a series of weird coincidences. This jaw-dropping story is one of my favorite profiles ever.
"I would tell the players, 'You may not be looking for a father, but I'm going to treat you like you're my sons,'" Smith says. "And so I just looked at every guy like my son. I just wanted to be a positive role model for Deland and exemplify what I thought my father exemplified for me."

"He was everything," McCullough says. "If anything was going on, I was going to talk to Coach Smith. Everybody in that room gravitated towards Coach Smith just because that's the type of person he was. What he's about rubs off on you, so I always wanted to be around that."
This is a profile of renowned VC Ben Horowitz, and his dad, David. One sees Donald Trump as the problem, the other as the answer. When David went to college campuses to denounce things that Ben believes in, Ben paid for his bodyguard. It's a fascinating look at a family that disagrees on nearly everything, but rallies around one common belief: revolution is the way forward.
"It's like Ben is the antidote to David Horowitz," he said. "He balances his father out. And what's so crazy is that Ben came from David Horowitz."

In the same way a Mafia don is happy if his kids never whack anyone, David appreciates how his offspring stayed clear of the family business. He doesn't even mind the way they rejected his politics as well.

"The victory of not indoctrinating your kids and yet having them be successful anyway — that's the ultimate for him," Ben said.
This profile is about a woman who had a pretty normal life as a stay-at-home mom raising five kids. And then her dad, Freddy Heineken, died. At his funeral, Charlene de Carvalho had 10 days to make a choice: continue living comfortably as a housewife or run the world's №3 brewer with no prior business experience. She chose the latter.
Until her father's passing, Charlene had no money to her name except a single share of Heineken stock — then worth 25.60 euros, or $32 — that her father had given her.

Now, as his only child and the sole heir to the Heineken fortune, she was inheriting about 100 million shares, equal to one-quarter of the company's total stock outstanding. This 25% stake came with voting control, meaning that her single vote outweighed the votes of other investors on any board matter.

Charlene had not thought much about her new responsibilities until that dreary morning at the cemetery. As she left her father's grave, her husband put her on the spot. "Charlene, you have to make a decision within 10 days if you want to inherit the role that your father played."
Kabir Ahmed went to college for accounting, he moved to New York City alone at age 23, and he now works on Wall Street. To say he works long, hard hours is an understatement. Ahmed is a street food vendor. The man gets up every morning and stands for 8 hours in a hot 10-foot-long box with rarely any time for a bathroom break. On a good day, he makes $125. When his wife suggested the family go on a Caribbean cruise, Ahmed didn't think they could afford that kind of vacation. But he wondered.
Mr. Ahmed's son, Kowshik, who dreams of working for NASA, will be a high school senior in the fall, and Mr. Ahmed wants all his children to go to college. "But now I cannot get sick," Mr. Ahmed says, "and I cannot stop working."

At 3:30 p.m., Mr. Ahmed's shift ends and he walks back to the subway; his partner will stay until the cart closes at 8.

By now, Mr. Ahmed's feet are sore and his back is aching. Lately, his back is always aching. The F train is delayed, but Mr. Ahmed, who likes to keep up on all the latest memes, and has been deprived of internet access for the duration of his shift, doesn't mind. He passes this time catching up on funny videos.
For a glorious 5 minutes and 30 seconds, a dad from Texas led the elite men's group at the Boston Marathon. Derek Yorek did it because his kids wanted to see him on TV. He ran one mile in 4:38, which is close to the limit of his aerobic capacity. He struggled to finish the rest of the marathon, but that one mile was definitely worth it.
On paper, Yorek's race was a tactical disaster: 3,571 people passed him, he ran his last 5K nine minutes slower than his first, and he finished more than 30 minutes slower than his personal best.

But he doesn't care. That's because even though the announcers didn't know the name of the guy leading the race after the first mile, two little girls back home in Texas did.
Jay Z had created an almost super-human persona — a brilliant artist, a doting father, and a role model to millions of kids. Until we heard his confessional album detailing how he almost lost it all. Jay Z bares his soul, opening up about everything from his marital troubles to his time in therapy.
It's just certain tools that you would hope for your child to have. You know, like, again, fairness and compassion and empathy and a loving heart. And those things translate in any environment. Those are the main base things that you want — well, for me, I would want my child to have. You know?

Treat people as they are, no matter who they are, no matter where they sit in the world, not to, like, be super nice to someone at a high position or mean to someone who they've deemed to be below them. I can't buy you love, I can't show it to you. I can show you affection and I can, you know, I can express love, but I can't put it in your hand. I can't put compassion in your hand. I can't show you that. So the most beautiful things are things that are invisible. That's where the important things lie.
You don't testify against the mob in federal court and live to tell about it. Especially when your father's the defendant. John Franzese Jr. helped send his father — the notorious Colombo family mobster Sonny Franzese — to prison. John also used to be a gun-toting, crack-addicted gangster before he became the U.S. government's key witness against Sonny. "Before there was John Gotti," John says, "there was my dad." This is the story of what happens when you break the mafia's sacred code of silence.
So when the FBI called a few years later, John did what no gangster is ever supposed to do – he listened. Agent Robert Lowicky had been chasing Sonny Franzese for a decade, and he wanted John's help. He wanted him to become a rat.

John hated what he came to accept: It was his only way out.

He'd cooperate with the government, become a confidential informant, wear a wire, testify in open court, whatever it took. He'd leave Denyce behind. He'd break his omerta. He'd turn on his father. He'd betray the mob.
For snowboard star Chloe Kim, the Olympics are about proving she's the best in the world. For her dad, the games represent the pinnacle of the American Dream. Her father, who immigrated to the U.S. & worked as a dishwasher, watched his Korean-American daughter win an Olympic gold medal in his native country. "As an immigrant, I could put my proud Korean last name in the American history books," he says.
Before the Olympics became Chloe Kim's goal, her father came to the U.S. with his own hopes. In 1982, 26-year-old Jong Jin Kim arrived at LAX, on the only direct flight to the States he could afford, in search of opportunity. "It was a dream country," he says, "a totally different world."

With $800 and an English-Korean dictionary, Jong purchased a 1970 Nova, bought a carton of Kent cigarettes and paid $150 for a one-week stay at a hotel. "I had $100 left in my pocket," he says. "I went to the patio of the hotel, smoked a Kent and said to myself, 'I start now.'"
Alabama football coach Nick Saban has a vision he calls "the process" — a philosophy he learned from his dad that emphasizes preparation and hard work over results. It's about constantly examining weak spots and gradually improving. The process, then, is never over.
Saban fully admits that his father's perfectionism informed the process, even if it took decades for him to codify it. Big Nick's influence also has something to do with why, even after a big victory, Saban feels less joy than relief.

Saban is reaching for a standard, so there are only two possibilities: Either you did what you were supposed to do, or you fell short. If you fell short, you go work harder and better to try to meet the standard next time. And if you met the standard, you go work doubly hard to fight off complacency so you have a shot at meeting it again.
---
👉 If you enjoyed reading this post, feel free to share it with friends!
… For more like this, make sure to sign up here: